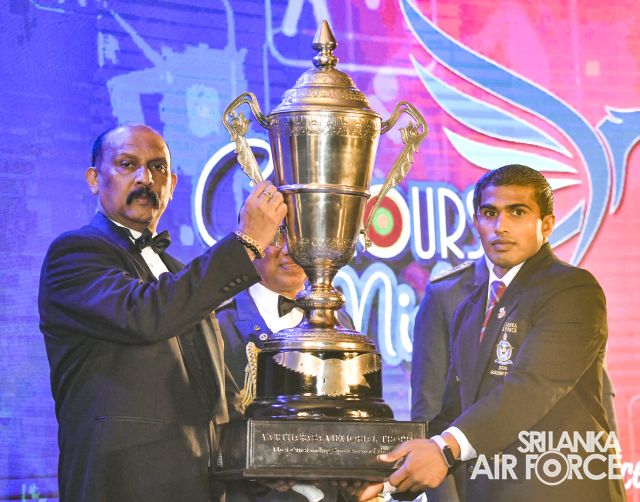 SLAF SPORTS MEN AND WOMEN HONOURED AT AIR FORCE COLOUR AWARDS CEREMONY- 2018 TO 2021
8:57pm on Saturday 27th August 2022
The Air Force Colour awards ceremony 2018 to 2021, was held yesterday (26 August 2022) at a gala ceremony at the Eagle's Lakeside Banquet and Convention Hall. The Secretary to the Ministry of Defence, General Kamal Guneratne (Retd) graced the occasion as the Chief Guest.

The Air Force Colour awards ceremony is an acknowledgement of the achievements of the sports personalities in the Sri Lanka Air Force. These achievements are the outcome of commitment, sacrifice and sweat of all stakeholders in the sphere of sports disciplines in the SLAF.

The Group Captain Roger Weerasinghe Memorial Trophy for most Outstanding Upcoming Sports Personality was awarded to Leading Aircraftman Fernando WLM for Cycling in the year 2018, Leading Aircraftwoman Weerasinghe RGIY for Soccer in 2019. Corporal Gomes BDH for Weightlifting in 2018 and Corporal Nimali WKLA for athletics in 2019 were presented the Flight Lieutenant Priya Abeyweeragunawardana Memorial Trophy for the most Outstanding Sportswoman. Flight Lieutenant A Vartharasa Memorial Trophy for the Most Outstanding Sportsman was awarded to Warrant Officer MLAP Kumara for Beach Volleyball in 2018 and Sergeant Dharmawardana RCN for Judo in 2019.

Commander of the Air Force, Air Marshal Sudarshana Pathirana along with his lady Mrs. Charmini Pathirana, Chief of Staff of the SLAF, Air Vice Marshal Prasanna Payoe, members of the Air Force Board of Management and senior officers were present at this grand ceremony which honoured the keen sportsmen and women in various sports disciplines.

SLAF Academy China Bay, SLAF Station Colombo awarded with the Vernon Rajapaksha Trophy for being the Best Unit in Sports of the year 2018 and 2019 respectively.

The outstanding Sport of the Year which is honoured by the President Air Force Sports Council Trophy was awarded to Women's Taekwondo for 2018, Women's Wrestling team for 2019 and Men's Taekwondo for 2018, Men's Beach Volleyball team for 2019.

Meanwhile, Air Chief Marshal DC Perera Memorial trophy for the Most Dedicated Sports Personality of the year was presented to Warrant Officer JAS Kumara (Manager Taekwondo) for 2018 and Sergeant Appuhamy WASR (Manager Wrestling) for 2019.

Finally, Chairman Organizing Committee of the Color Awards Ceremony 2018 to 2021, Air Vice Marshal Roshan Biyanwila delivered the thanking note whilst marking the end of the felicitation ceremony.