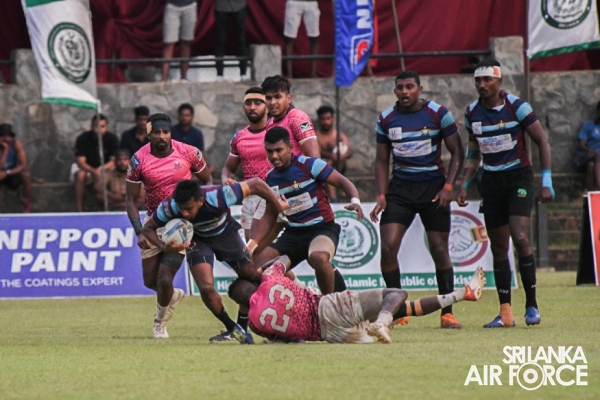 AIR FORCE EAGLES CLINCH SRI LANKA RUGBY SEVEN'S CHAMPIONSHIP 2022
2:28pm on Tuesday 11th October 2022
After winning the Warrior Trophy 7s Tournament 2021, Air Force Rugerrites were able to continue their winning streak in the 7s format of Rugby. AF Rugby team bagged their second trophy in a row with their victory against Havelock SC at the Cup Finals during the Sri Lanka Rugby Inter-Club 7s Tournament held today (09 October 2022) at the Race Course Grounds Colombo.

Sri Lanka Air Force participated for the tournament with one team each for the Men's and Women's category for the Club Segment of the Sri Lanka Rugby 7s Tournament 2022. The tournament was held on 08th and 09th October at the Race Course Grounds Colombo. The men's team contested in Group B in the Club Segment along with Havelock SC, Navy SC and Western Province Barbarians. On 08th October, Air Force concluded the preliminary round as the undefeated and highest scoring team in the tournament. Match No. 01 – Air Force SC 14 - Navy SC 07 , Match No. 02 – Air Force SC 54 - Western Barbarians 00 and Match No. 03 – Air Force SC 21 - Havelock SC 14.

Flying towards the knock-out stage of the tournament undefeated, Air Force SC faced Police SC in the Quarter Finals and won the match 29 -00 to advance to the Cup Semi-Finals and beat Navy SC for the second time in the tournament at a close match scoring 19 points against 12.

Heading to the Championship, the Air Force SC team reached the Finals to meet once beaten Havelock SC. The opposing Havelock SC were able to draw the first blood with an early try by Mithun Hapugoda and putting points on the score board. Shashika Fernando equalised the score with a try; while Avishka Lee, Gayantha Iddamalgoda, and Nuwan Perera joined the strike from the air and to bring the score up to 24 against 10 at the long whistle to be crowned as the 7s Champions of Sri Lanka Rugby.

At the end of the tournament Air Force SC had scored 161 points and had only 43 points scored against them. The dominating performance by Air Force was an eye catcher at the fully packed Race Course Grounds during both days. Many Rugby experts commended on the rugby played by Air Force SC to outsmart Havelock SC and execute their offensive strategy to claw the trophy from a tough Havelock SC team. Dharshana Dabare of AF team was adjudged as the best player in the men's category.

The thrilling evening was attended by the Chief of Staff of the SLAF, Air Vice Marshal Udeni Rajapaksa, Chairman SLAF Rugby, Group Captain Subash Jayathilake, other special invitees and Rugby officials.