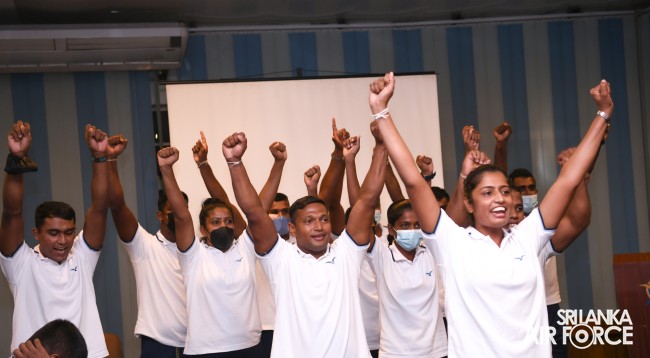 MOTIVATION PROGRAMME CONDUCTS FOR SLAF HANDBALL TEAM
12:57pm on Saturday 29th October 2022
A motivational drive for SLAF Handball Team Players was organized under the guidance of the Chairman Defence Services Sports Board and Commander of the Air Force, Air Marshal Sudarshana Pathirana today (29 October 2022) at Air Force Headquarters. The particular full-day programme was conducted by Mr. Suranjith Swaris, Country Director of Inextricable Group Tech together with a group of individuals including Chief Growth Officer of Wild Drift, Mr. Gihan De Silva.

The programme commenced with opening remarks by Secretary SLAF Handball, Wing Commander MAS Heshal and the men and women players of the Handball teams, who actively participated in the programme all day long. The certain endeavour focused to enhance and strengthen the confidence of the players to sharpen their performances and to build a well-rounded team spirit to achieve the highest in the upcoming Defence Services Games' Handball Tournament.

The prolific sessions were conducted with the resource personnel namely Mrs.Bernie Samarasinghe, Mrs.Keran De Silva and Miss Onella Ruth at the group. The programme concluded with the vote of thanks which was delivered by Assistant Secretary SLAF Handball, Flying Officer Sachini Weerasinghe.

The event was attended by Secretary Air Force Sports Council, Group Captain Eranda Geeganage and tokens of appreciation were presented to the crew to mark the occasion.