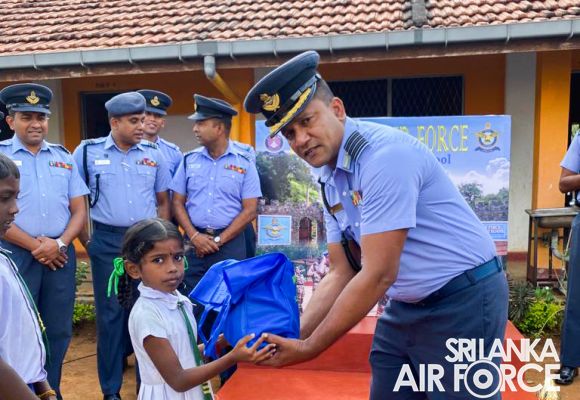 SLAF REGIMENT TRAINING SCHOOL VANNI CELEBRATES 09th ANNIVERSARY
9:39pm on Tuesday 8th November 2022
SLAF Regiment Training School Vanni celebrated its 09th anniversary on 05th November 2022 with series of Community Service Projects, Recreational and Religious Activities under the guidance of the Commanding Officer, Group Captain VGGB Piyasiri together with all officers, other ranks and the civil staff.

The day's proceedings ensued with the customary working parade at the Parade Ground, which the Commanding Officer reviewed. In remarks, the Commanding Officer emphasized the importance and historical significance of the Regiment Training School as well as how it has changed over the years. Also thanked all of the officers, airmen and civilians who have contributed in the past to the transformation and development of the School.

In line with the formation day celebrations, a tree planting programme (Jack Trees) within the Agro Unit and friendly Volleyball tournament were held at the sports section. The celebration commenced with Shramadana Campaigns conducted at the Divisional Hospital Puwarasankulam and Navajothi Vidyalaya Madukkulam. Further, dry rations and food packs distribution for students and the teachers of Nawajothi Vidyalaya, Vanni were held at the school premises with the participation of the Commanding Officer and all officers and other ranks of the Regiment Training School Vanni. And also a blood donation campaign was held at the School hospital on 04th Nov 22. The celebration concluded with a Religious Programme at the School temple yesterday (07 November 2022) to invoke blessings to the establishment and to the serving men.