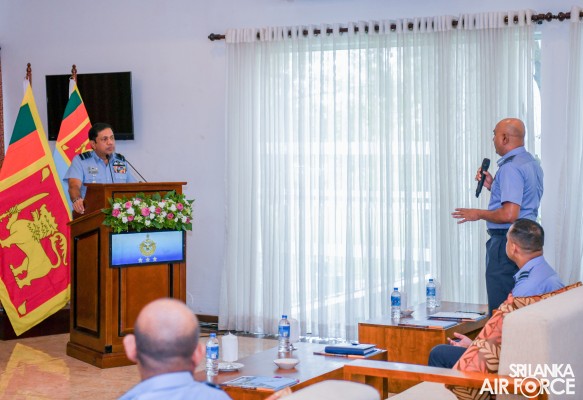 THE FLYING INSTRUCTORS WORKSHOP 2022
7:05pm on Wednesday 23rd November 2022
The Flying Instructors Workshop 2022 commenced as per the initiative of the Commander of the Air Force, Air Marshal Sudarshana Pathirana with the guidance of the Director Air Operations, Air Vice Marshal Bandu Edirisinghe.
The event was organized and held at SLAF Base Ratmalana today (23 November 2022). All flying instructors from Fixed and Rotary Wing were presented for the workshop. Gracing the occasion as the Chief Guest, Commander of the Air Force addressed the forum of Flying Instructors emphasizing the role and responsibilities of a Flying Instructor in the contemporary field of military aviation in order to face the present day challenges.
Air Vice Marshal Nihal Jayasinghe and Captain Kamal Gunawardane of Sri Lankan Airlines conducted educative lectures on 'Different Approach to Explain Theory of Lift' and 'Instructional Techniques, Competency Based Training and Assessment System' respectively during their sessions as guest speakers.
During the event, points pertaining to flying training were discussed and Commander himself involved with flying instructors to solve issues pertaining to various training concerns aiming to ensure the highest standards of flying training in SLAF.
The constructive workshop was concluded on the same day with an ending note to carry forward the good work to have more fruitful sessions in such nature to foster the flying training of Sri Lanka Air Force.