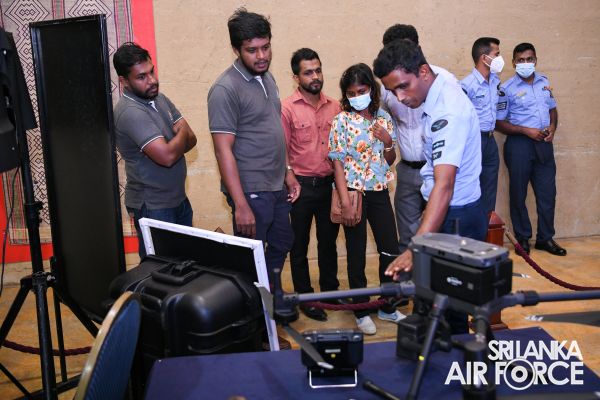 SLAF PARTICIPATES IN THE "GEOWEEK 2022" EXHIBITION AT BMICH
10:19pm on Saturday 3rd December 2022
SLAF took part in the "GEOWEEK 2022" exhibition at BMICH premises on 02 and 03 December 2022 under the guidance of the Commander of the Air Force, Air Marshal Sudarshana Pathirana which was organized by the discipline of Geospatial Science of the University of Sabaragamuwa.
SLAF displayed its air assets and potential applications related to remote sensing and Geographic Information System (GIS) applications in align with the theme of the exhibition.
Additionally, indigenously built Lihiniya Mk II Unmanned Aerial Vehicle and DJI Matrice 300 Drone used by the SLAF were also displayed along with the other GIS applications carried out related to operational aspects of SLAF in support of other government entities which were mainly developed by the SLAF Information Technology personnel.
The recently built two (02) Hand Launch Unmanned Aerial Vehicles designed by the engineers of the Aeronautical Research and Development Wing, caught the attraction of the subject experts and enthusiastic young talents who visited the exhibition.
Command Research Development Cell kept the main coordination of the SLAF stall during the exhibition with the support of the Directorate of Air Operations, Directorate of Aeronautical Engineering, Directorate of Electronics and Telecommunication Engineering and Directorate of Information Technology.
The exhibition paved the way for SLAF to have a direct dialogue with the academia, subject experts and industrialists on the specific field to further enhance the capabilities related to remote sensing and Geographic Information Systems in SLAF.
The Command Research and Development Officer, Group Captain CJ Hettiarachchi and Commanding Officers of No 1 & 2 Information Technology Wings, Wing Commander API Sampath Kumara and Wing Commander GDI Sanjeewa coordinated the exhibition arrangements.