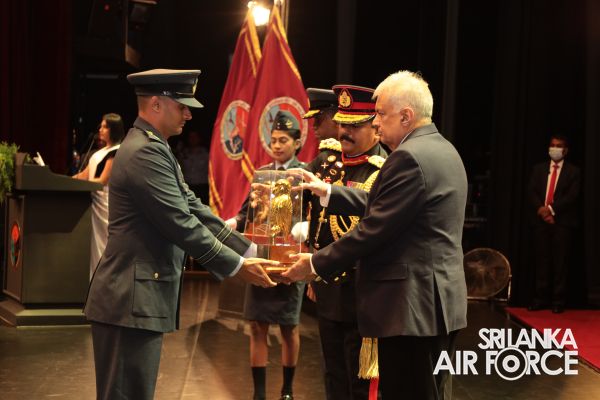 NO 16 DEFENCE SERVICES COMMAND AND STAFF COURSE GRADUATION HELD AT THE NELUM POKUNA THEATRE
11:53am on Friday 9th December 2022
The Graduation Ceremony of the Defence Services Command and Staff College (DSCSC) Course No 16 was held at the Nelum Pokuna Mahinda Rajapaksa Theatre yesterday (08 December 2022). The President of Democratic Socialist Republic of Sri Lanka, Hon. Ranil Wickremasingha graced the occasion as the Chief Guest. The President was welcomed by the Commandant of the DSCSC, Major General BKGML Rodrigo and members of the Board of Management.

Course No 16 commenced on 05 January 2022 and concluded on 07 December 2022. A total of 149 Officers comprising of 76 Officers from the Sri Lanka Army, 26 Officers from the Sri Lanka Navy, 25 Officers from the Sri Lanka Air Force, 22 foreign Officers from Bangladesh, India, Indonesia, Maldives, Nepal, Oman, Pakistan, Rwanda, Saudi Arabia, Senegal and Zambia participated for this Course.

The Commander of the Air Force, Air Marshal Sudarshana Pathirana along with Mrs. Charmini Pathirana participated for the event. Chief of Staff to the President and Senior Advisor to the President, Mr. Sagala Rathnayake, Secretary to the Ministry of Defence, General Kamal Gunaratne (Retd), Chief of Dence Staff, Commander of the Army, Commander of the Navy, Heads of Diplomatic Missions and other members of the Diplomatic Corps, Members of the Board of Management of the DSCSC, Members of the Academia, Senior Officers of the Tri Services, Spouses and Parents of the graduates were among the distinguished guests.

Special Awards were awarded to graduates who have excelled in academic achievements during the ceremony by the chief guest. The list of recipients of Special Awards is given below.

COMMANDANT'S HONOURS AWARD

Following Student Officers who obtained an overall aggregate of 70% (B+) or above were awarded with the Certificate of Commandant's Honours.

Army
Major HAMP Kumara (Sri Lanka Engineers)
Major WACN Karunathilake (Sri Lanka Light Infantry)

Navy
Commander SIB Firoz (Bangladesh Navy)
Lieutenant Commander Krishnan (Indian Navy)
Lieutenant Commander SM Asadh (Pakistan Navy)

Air Force
Squadron Leader HWN Wanasinghe
Wing Commander KEND Gunarathne

Golden Pen Award
Award for producing the best Commandant's Research paper of the Course was awarded to
Major HAMP Kumara (Sri Lanka Army)

Golden Owl Award
Following most outstanding local and foreign Student Officers who have secured the first in the order of merit in each wing were awarded with the Golden Owl Award.

Army Wing
Foreign Student Officer: Major F.A.H.I.M Hasnain (Bangladesh Army)
Sri Lankan Student officer: Major HAMP Kumara (Sri Lanka Engineers)

Navy Wing
Foreign Student Officer: Lieutenant Commander Krishnan (Indian Navy)
Sri Lankan Student Officer: Lieutenant Commander KKDMD Karunarathna

Air Wing
Foreign Student Officer: Wing Commander Yasir Mustafa (Pakistan Air Force)
Sri Lankan Student Officer: Squadron Leader HMN Wanasinghe