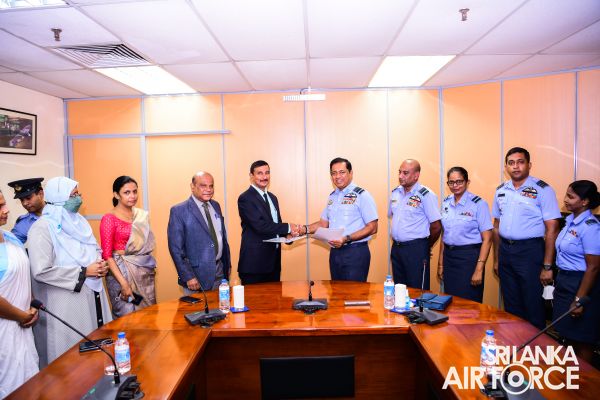 SLAF SIGNS THE MEMORANDUM OF UNDERSTANDING (MOU) FOR CHARTER AIRCRAFT AGREEMENT
3:45pm on Wednesday 21st December 2022
The Memorandum of Understanding (MOU) for Charter Aircraft Agreement was signed between Sri Lanka Air Force and Ministry of Health today (21 December 2022) at Air Force Headquarters under the solemn approval by the Ministry of Defence. Commander of the Air Force, Air Marshal Sudarshana Pathirana and Secretary to the Ministry of Health, Mr. Janaka Sri Chandraguptha attended to the ceremony.

The agreement efforts to spearhead towards providing aircraft on mobile Charter Basis through Sri Lanka Air Force for the purposes of air lift remains of deceased personnel for organs retrieval on the request of the Ministry of Health. C-130, AN-32, MA-60, Y-12, MI-17, Bell-412, Bell-212 and Bell-206 airworthy aircraft will be deployed to perform air lift operations under this agreement.

The event was attended by Director Air Operations, Air Vice Marshal Bandhu Edirisinghe, Director Legal, Air Commodore Sureka Dias, Staff Officer Operations I of Directorate of Air Operations, Group Captain Dinesh Kasagala, Legal Officer Procurement, Wing Commander Harshani Katugampola, Additional Secretary to the Ministry of Health (Medical Services), Dr. Sunil De Alwis, Director Medical Services, Dr. Ayanthi Karunarathne, Senior Registrar (Medical Services), Dr. Avanthi Rupasinghe and Chief Legal Officer, Mrs. AR Ahamed.