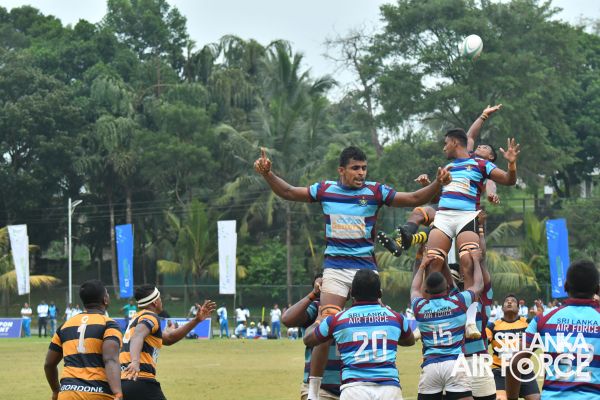 RESURGENT AIRMEN GUN DOWN SOLDIERS DURING DECISIVE RUGBY MATCH AT PANAGODA
2:41pm on Monday 23rd January 2023
The Air Force Men's Rugby Team took a bonus-point victory against a strong Army Team at the Nippon Paints Rugby League 2022/2023 held at the Army Rugby Grounds Panagoda. At the final whistle, the Airmen closed the game with 27 points to 19 against the hosts.

The 27 points by the Airmen were divided among Shamika Kaushan with two tries, Dharshana Dabare with one try, Parakarama Rathnayake with one try, and Nuwan Perera sealing the game by converting two tries and one penalty.

This win brings the Air Force Men's Team to the top four in the points table, with Kandy Sports Club, CR & FC and Havelock Sports Club in the top 3 positions. The Airmen are scheduled to play Navy Sports Club at Welisara on 27 January 2023, which would once again be the league match to decide the number 4 slot in the Cup Segment.