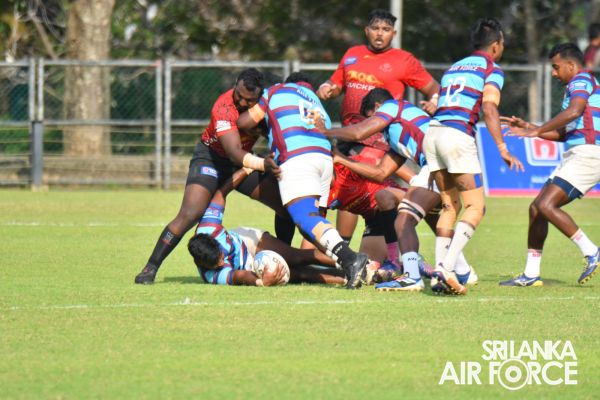 RESILIENT AIRMEN DOMINATE CH&FC IN THE NIPPON PAINT RUGBY LEAGUE 2022/2023
2:50pm on Saturday 11th February 2023
The Air Force Men's Rugby Team secured their second win of the Super Round Plate Segment of the Nippon Paints Rugby League 2022/2023 against the strong CH&FC yesterday (10 February 2023) at Race Course Grounds Colombo. At the final whistle, the Airmen closed the game with 44 points to 31 against the hosts.
The 44 points by the Airmen were divided amongst Krishan Soorya, Shashika Fernando, Dharshana Dabare, Denuwan Wickramarachchi, and Parakrama Rathnayake with one try against each name (05 tries), while Nuwan Perera sealed the game by converting all five tries and three penalties. A noteworthy performance was recorded by Nuwan Perera with his individual contribution of 16 points and by also becoming one of the top scorers in the entire tournament by scoring over 100 points under his name.
This is the second consecutive win for the Airmen against CH&FC in this league. This bonus-point victory brings the Airmen to the top of the Plate Segment. The grand finale of the segment is scheduled to be held on 17th February 2023 at Police Park, where the Airmen will once again meet the Policemen for the Plate title.