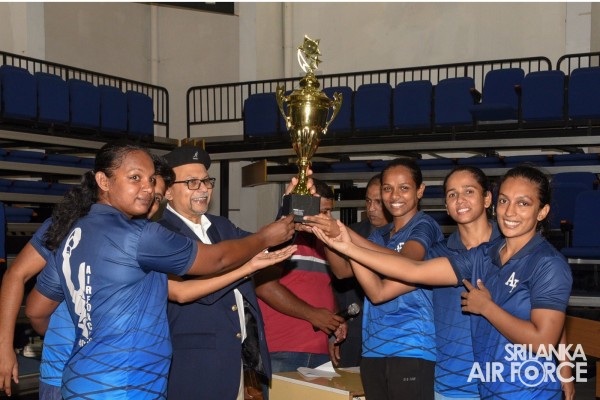 SLAF WOMEN'S PUGILISTS VICTORIOUS IN THE 95TH NATIONAL BOXING CHAMPIONSHIP 2022
12:59pm on Saturday 25th February 2023
The Boxing Association of Sri Lanka (BASL) organized and conducted the 95th National Boxing Championship 2022 for both men and women from 20 February to 24 February 2023 at the Royal MAS Arena, Colombo 7. The championship featured more than 150 contestants from 25 reputable sports clubs, including the Tri Forces and the Police, competing in various weight categories.
SLAF Women's Pugilists clinched the title of Women's Champions at the tournament. For the first time in SLAF boxing history, the victory is inscribed as a record.
The SLAF Women's team won three gold medals, two silver medals and one bronze medal, while the Men's team won two silver medals and four bronze medals. During the special awards ceremony, Aircraftwoman Malshani LIN was recognized as 'the Best Woman Pugilist' and Leading Aircraftwoman Coorey MPSS was honoured as 'the Most Outstanding Woman Pugilist of the Year 2022'. The Sri Lanka Air Force Women's Boxing Team has been named "the Most Outstanding Women's Boxing Team of the Year 2022".
The International Boxing Association (IBA) declared 2023 as the Year of Asia that influenced how the Championship was prepared.
Summary of ResultsWOMEN
Gold Medallists
Aircraftwoman Malshani LIN (under 52 kg weight category)
Leading Aircraftwoman Perera KKIT (under 54 kg weight category)
Leading Aircraftwoman Cooray MPSS (under 60 kg weight category)
Silver Medallists
Corporal Thiwanka WWAK (under 63 kg weight category)
Leading Aircraftwoman Kaluarachchi KAGN (under 81 kg weight category)
Bronze Medallist
Leading Aircraftwoman Pasyala PAHC (under 57 kg weight category)
MEN
Silver Medallists
Leading Aircraftman Silva HMPM (under 80 kg weight category)
Leading Aircraftman Wijenaga WGNC (under 75 kg weight category)
Bronze Medallists
Corporal Udaya kumara IPDC (under 67 kg weight category)
Corporal Meegasthenna MWMM (over 91 kg weight category)
Corporal Pushpakumara AMS (under 48 kg weight category)
Leading Aircraftman De Silva GWC (under 80 kg weight category)