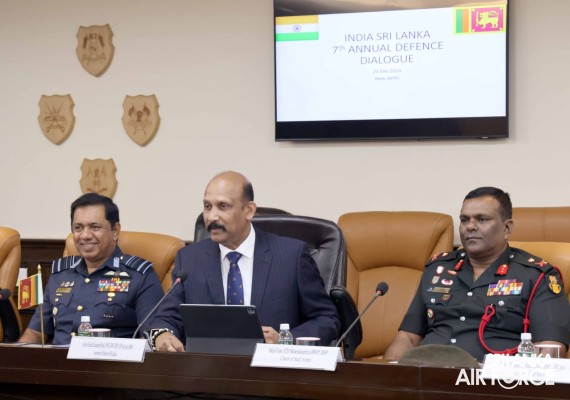 7TH ANNUAL DEFENCE DIALOGUE BETWEEN INDIA AND SRI LANKA
1:11pm on Saturday 25th February 2023
The 7th Annual Defence Dialogue between India and Sri Lanka was held in New Delhi on 23 February 2023. It was co-chaired by Indian Defence Secretary Giridhar Aramane and Sri Lankan Defence Secretary, General Kamal Gunaratne (Retd). The two countries agreed to boost the scope of bilateral exercises as a result of a review of the two nations' ongoing defence cooperation endeavors that took place during the meeting.

The Commander of the Sri Lanka Air Force, Air Marshal Sudarshana Pathirana participated along with other services' top ranking senior military dignitaries to represent the Sri Lankan military forces. The Indian delegation comprised officials from the Ministry of Defence, Headquarters Integrated Defence Staff, Service Headquarters and the Ministry of External Affairs.

The two countries' highest degree of organizational interaction is represented by this Annual Defense Dialogue and the attention placed on the negotiations by both parties revealed the significance of determining the future course of ties between the armed forces of India and Sri Lanka. The Military Forces of both nations will continue to follow mutually valuable operations in a wide range of domains and the expanded engagements are encouraging the positive vibes for the future of diplomatic cooperation.