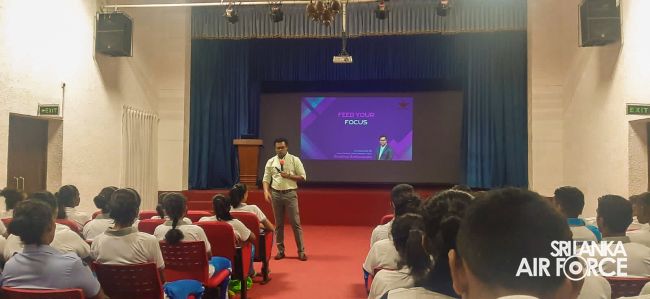 MOTIVATION DRIVE SECOND SESSION FOR SLAF SPORTSMEN AND WOMEN
4:19pm on Monday 27th February 2023
The second episode of a motivational drive for SLAF sportsmen and women in the sports disciplines of Netball, Handball, Rowing, Kayaking, Triatholon, Beach Volleyball and Tennis was organized under the guidance of the Chairman Defence Services Sports Board and Commander of the Air Force, Air Marshal Sudarshana Pathirana today (27 February 2023) at the Main Auditorium, SLAF Trade Training School Ekala. The particular full-day programme was conducted by Mr. Bhathiya Aruthnayake who is a professional motivator and CEO of Pheonixspire (Pvt) Ltd.

The programme began with opening remarks from Flight Sergeant Chinthaka IG and the ninety-six (96) men and women athletes who participated in the various sports disciplines all day long. The specific endeavour focused on enhancing and strengthening the players' confidence in order to sharpen their performances and build a well-rounded team spirit in preparation for the upcoming 12th Defense Services Games and other International Sporting Events.

The programme concluded with the vote of thanks, which was delivered by internationally renowned Netball Player, Squadron Leader Chathurangi Jayasooriya.

The event was attended by the Officer Commanding Training of Trade Training Wing, Wing Commander SMAR Silva and a token of appreciation was presented to the guest lecturer to mark the occasion.