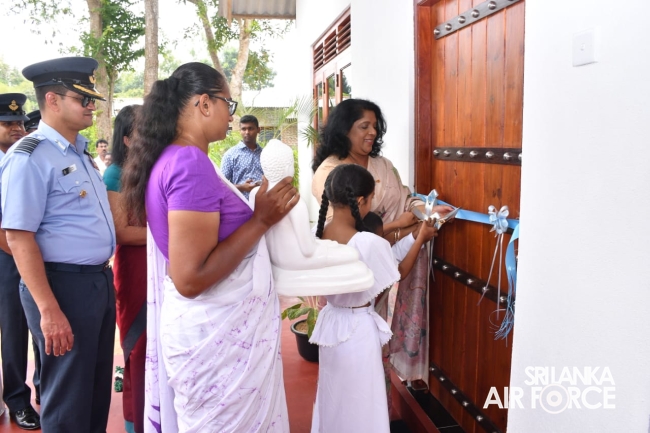 SLAF SEVA VANITHA UNIT LAUNCHES THE "GUWAN MANUDAM" HOUSING PROJECT ON A SUCCESSFUL NOTE
6:09pm on Sunday 5th March 2023
The "Guwan Manudam" Housing Project has been initiated for the families of service members who deceased after 2009 and is intended to enhance the quality of life of the beneficiaries.

In honour of International Women's Day, the first house project under this initiative was presented to the family of Corporal Bandara NMCN (Deceased), yesterday (04 March 2023). The Chairperson of the SLAF Seva Vanitha Unit, Mrs. Charmini Pathirana, graced the housewarming ceremony that has been held in Mahapaladikulama, Anuradhapura.

This Project was funded by the SLAF Seva Vanitha Unit whilst the construction was carried out by SLAF Base Anuradhapura. The overall project was completed under the directives of the Director General Civil Engineering, Air Vice Marshal Udula Wijesinghe and under the supervision of the Base Commander of SLAF Base Anuradhapura, Group Captain Priyamal Fernando.

The ceremony was attended by the Base Commander SLAF Base Anuradhapura, President Seva Vanitha Unit of SLAF Base Anuradhapura, Mrs. Chandima Gamage, Assistant Secretary Seva Vanitha Unit, Squadron Leader Kalhari Wijesinghe, staff of the SLAF Seva Vanitha Unit and a limited number of officers and other ranks at SLAF Base Anuradhapura.