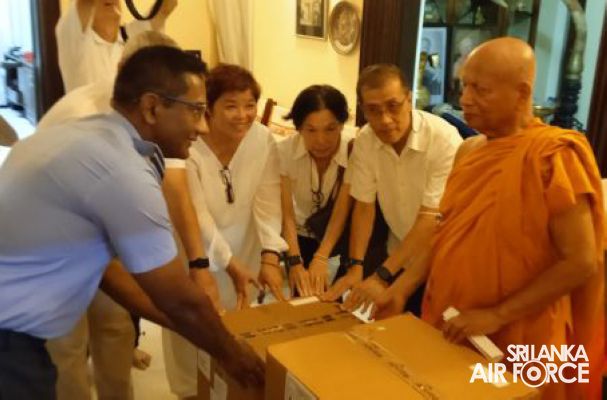 SLAF RECEIVES A CONSIGNMENT OF MEDICAL SUPPLIES FROM SINGAPORE
9:53pm on Friday 10th March 2023
The "Singapore Buddhist Library" revealed its generosity by donating a consignment of medical supplies valued at 0.5 million rupees to the SLAF Hospital Colombo through the Bellanwila Raja Maha Vihara recently. This donation will facilitate uninterrupted medical treatment for patients at the hospital. The solemn event was organized under the close supervision of the Chairperson of the SLAF Seva Vanitha Unit, Mrs. Charmini Pathirana and presided over by the Chief Incumbent of the Bellanwila Raja Maha Vihara, Ven. Bellanwila Dhammarathana Thera.
A delegation of foreign devotees from the Singapore Buddhist Shrine, who are members of the "Singapore Buddhist Library," was present at the event to mark this significant contribution. The Commanding Officer of the SLAF Hospital in Colombo, Air Commodore PAV Padmaperuma and a cross-section of medical staff also attended the occasion.
This act of kindness from the "Singapore Buddhist Library" will undoubtedly have a positive impact on the healthcare system and the patients who receive treatment at SLAF Hospital Colombo.