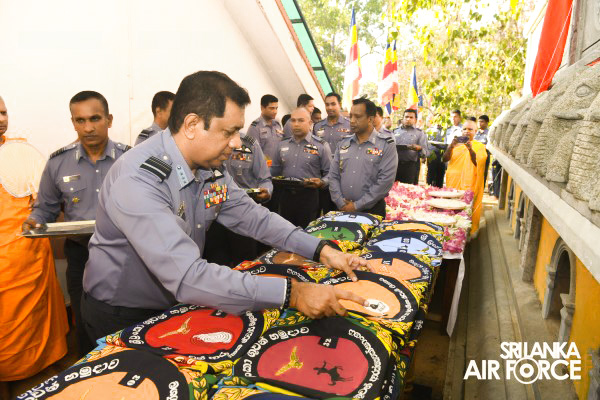 SLAF INVOKES THE BLESSINGS OF THE TRIPLE GEMS WITH THE TRADITIONAL FLAG BLESSING AT THE SACRED JAYA SRI MAHA BODHI
3:17pm on Friday 17th March 2023
The Sri Lanka Air Force conducted the traditional Flags Blessing today (17 March 2023) at the sacred Anuradhapura "Jaya Sri Maha Bodhi" in line with the 72nd Anniversary celebrations. The event was held under the auspices of the Commander of the Air Force, Air Marshal Sudarshana Pathirana, with the participation of all Air Commanders, Base Commanders, Academy Commandant and Station Commanding Officers.

As flag-bearers lined up at the Welimaluwa (lower-layer), a colourful pageant led by monks proceeded to the Udamaluwa for religious performances, after which all flags representing the Sri Lanka Air Force and all Air Force Establishments were taken to the upper layer for the symbolic invocation of blessings. This symbolized the blessing of all personnel of the Sri Lanka Air Force serving around the entire island in various capacities.

The event was organized by SLAF Base Anuradhapura and attended by the Chief of Staff, Members of the Air Force Board of Management, senior officers, other ranks and civilian staff representing the entire Air Force.