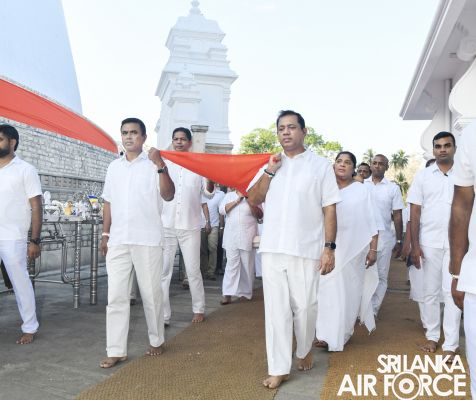 SLAF SEVA VANITHA UNIT ORGANIZES "KAPRUK POOJA" AT ANURADHAPURA
1:03pm on Saturday 18th March 2023
The SLAF Seva Vanitha Unit conducted the "Kapruk Pooja" to invoke blessings to the SLAF in line with the 72nd Anniversary. The solemn event held yesterday (17 March 2023) at sacred Ruwanweliseya under the auspices of the Commander of the Air Force, Air Marshal Sudarshana Pathirana and the Chairperson of the SLAF Seva Vanitha Unit, Mrs. Charmini Pathirana. The event was hosted by the SLAF Seva Vanitha Unit with the assistance of Director General Welfare, Air Commodore Suharshie Fernando and Base Commander SLAF Base Anuradhapura Group Captain Priyamal Fernando.

Meanwhile, yet another procession of religious ceremonies took place along with a 'Gilanpasa Pooja' which was also held at the Ruwanweliseya on the same day evening.

The colorful procession made up of traditional dancers and flower offerings for the "Kapruk Pooja" commenced from the sacred Jaya Sri Maha Bodhi premises and proceeded to the Ruwanweliseya. The Kapruk Poojawa was followed by a Dharma Sermon which was presided over by Deputy Incumbent of the Maha Vihara Pirivena, Venerable Kudagalawewa Ghanawimala Thero.

A Milk Coffee Dansela was also organized by the SLAF Seva Vanitha Unit at Ruwanweliseya premises to provide much relief for those who pilgrim to Anuradhapura.

The Chief of Staff, Members of the Air Force Board of Management along with their spouses, a cross section of senior officers, other ranks and civilian staff representing the entire Air Force attended the occasion.