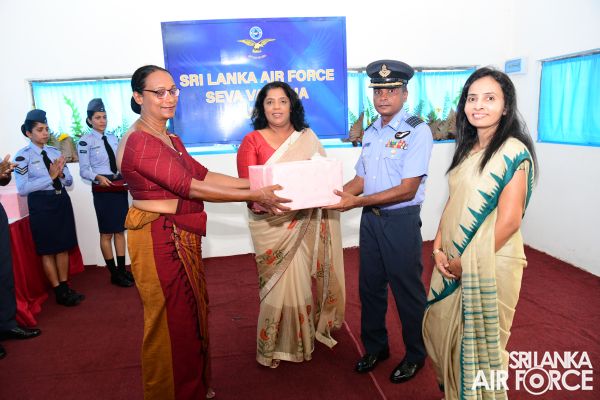 53RD PHASE OF "GUWAN MITHUDAM" PROJECT CONCLUDES AT KATUKURUNDA
12:54pm on Tuesday 28th March 2023
The 53rd phase of the 'Guwan Mithudam' project was successfully concluded at the Thebuwana Primary School yesterday (27 March 2023). The Chairperson of SLAF Seva Vanitha Unit, Mrs. Charmini Pathirana graced the esteemed event as the Chief Guest.

The primary school building, which had not been renovated in several years, was completely restored to create a pleasant educational atmosphere for approximately 157 students enrolled in the school. The building was handed over to the students after the completion of the renovation, and students were also gifted with exercise books during the ceremony.

Additionally, the project also included the enhancement of the school's environment with proper landscaping, providing students with a comfortable and conducive environment for learning. The SLAF Seva Vanitha Unit and SLAF Station Katukurunda provided funding for the project, which was supervised by the Commanding Officer of SLAF Station Katukurunda, Group Captain Asitha Hettiarachchi.

The President Seva Vanitha Unit at SLAF Station Katukurunda, Mrs. Jayamini Kumarasinghe, a cross-section of Officers and other ranks of the Station as well as the Staff of the SLAF Seva Vanitha Unit attended the occasion.

Overall, the successful completion of this project has helped to create an enhanced and more suitable learning environment for the students at Thebuwana Primary School, further promoting the value of education in Sri Lanka.