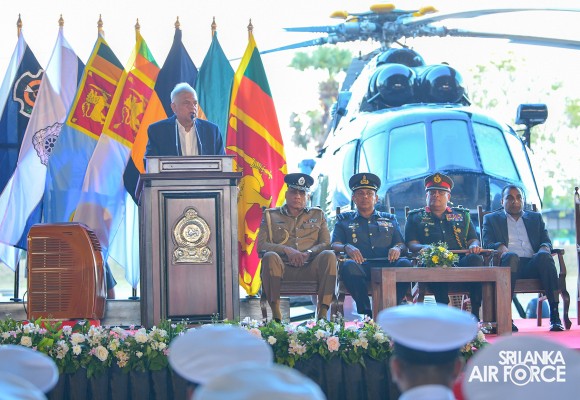 THE PRESIDENT, HON. RANIL WICKREMASINGHE, ADDRESSES TRI-FORCES AND POLICE MEMBERS
9:47pm on Saturday 1st April 2023
The Chief of the Armed Forces and President of the Democratic Socialist Republic of Sri Lanka, Hon. Ranil Wickremasinghe, made a special address to the tri-forces and police members today (01 April 2023) at SLAF Base Anuradhapura.
During the speech, the President emphasized the need to combat the escalating drug problem by implementing strict laws with the assistance of the tri-forces and police. He also highlighted the importance of modern technology and knowledge in shaping future military states. He stressed the need for the armed forces and police to be equipped with advanced technology and knowledge to confront future challenges. In this regard, the President initiated the Defence 2030 programme, aimed at strengthening the defence forces of Sri Lanka.
The event was attended by the Commander of the Air Force, Air Marshal Sudarshana Pathirana, the State Minister of Defence, Hon. Pramitha Bandara Thennakoon, the Senior Advisor on National Security, Hon. Sagala Ratnayaka, the Secretary to the Ministry of Defence, General Kamal Guneratne (Rtd), the Chief of Defence Staff, Commanders of the Army and Navy, the Inspector General of Police and members of the Tri-Forces and Police.
Overall, the President's address underscored the importance of a proactive approach to addressing the persistent concerns of national security and public safety. The Defence 2030 programme is expected to enhance the capabilities of Sri Lanka's defence forces and ensure the safety and security of the nation and the citizens.