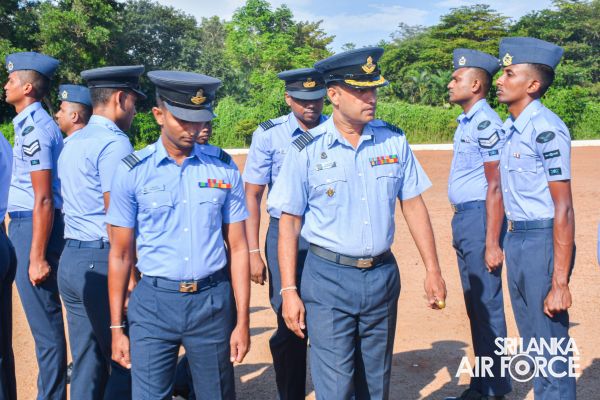 NO. 02 ELECTRONICS AND TELECOMMUNICATION ENGINEERING WING SLAF BASE RATMALANA CELEBRATES 34 YEARS OF SERVICE TO THE NATION
9:11am on Tuesday 4th April 2023
The No. 02 Electronics and Telecommunication Engineering Wing at SLAF Base Ratmalana proudly celebrated its 34th year of service to the nation on 02 April 2023. The Wing was initially established at SLAF Base Ratmalana on 02nd April 1989, as the Ground Radio Workshop and later elevated to the Electronics and Telecommunications Wing in 1991 under the leadership of Wing Commander Ajith Jayasekara as the 1st Commanding Officer. At present, the Wing is advancing under its 10th Commanding Officer, Group Captain Sameera Lankathilake.
Activities of the anniversary celebration commenced with a Shramadhana Campaign at the Sri Nikethanaramaya Temple, Thelawala, which was conducted on the 30th of March 2023. On the same evening, a religious programme was conducted at the same temple with the participation of all members of the Wing in order to invoke blessings on past and present members.
The customary Working Parade was held yesterday (03 April 2023) at the Base Parade Square of SLAF Base Ratmalana and was reviewed by the Commanding Officer. The Commanding Officer addressed the parade and reminded everyone that the Wing was where it was now due to the sacrifices and commitments of its past members. He also invited all personnel of the Wing to continue the valuable service that they were performing.
Following the parade, the Director General Electronics and Information Technology Engineering (overlook), Air Vice Marshal Jude Perera, made his farewell visit to SLAF Base Ratmalana. During his visit, he first visited the Electronics and Telecommunication Engineering Wing, where a donation of two (02) wheel chairs was made to Leading Aircraftman Gunawardana PTN and Corporal Ananda BD. These wheel chairs would be utilized for the care of the fathers of both of these servicemen. Air Vice Marshal Perera also visited the No. 1 Information Technology Wing. Air Vice Marshal Perera was received at the Officers' Mess by the Base Commander of SLAF Base Ratmalana, Air Commodore Amal Perera, where he was presented with mementos to mark his visit to the Base.