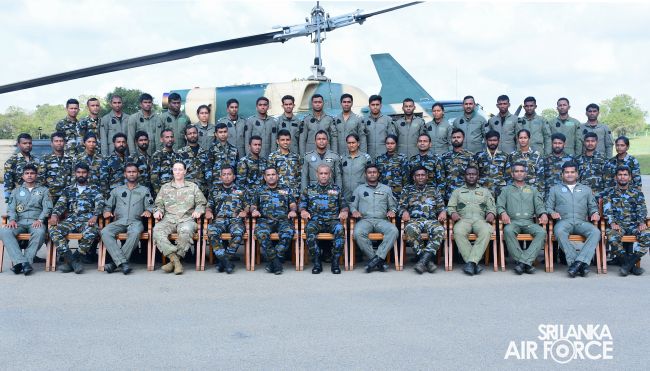 AIRCREW WATER AND JUNGLE SURVIVAL TRAINING COURSE NO. 01-2023 CONCLUDES AT SLAF STATION AMPARA
2:34pm on Wednesday 5th April 2023
The "Aircrew Water and Jungle Survival Training Course No. 01-2023" was successfully conducted at SLAF Station Ampara from 17th to 29th 2023, with the participation of 21 aircrew members, including 09 Pilots, 01 Navigator, 03 Flight Engineers, 02 Loadmasters, 03 Air Gunners, 02 Cabin crew and 01 Air Intelligence observer. Furthermore, two foreign officers, Major Leonard Zulu and Captain Cassandra Ross, from Zambia and the USA, participated in the training and successfully completed the course.

The course commenced with lectures and practical sessions on aspects of Water and Jungle Survival training that include field training, map preparation and day and night map marches, survival lane demonstrations, river crossing exercises, jungle-based training, and the final three days of "Field Training Exercises" on surviving after a simulated crash landing in the jungle.

The closing ceremony was held on 29th March 2023, at SLAF Station Ampara, and the occasion was graced by the Director General of Air Operations, Air Vice Marshal Sampath Wickremeratne, as the Chief Guest. Certificates were awarded to the trainees who successfully completed the training.