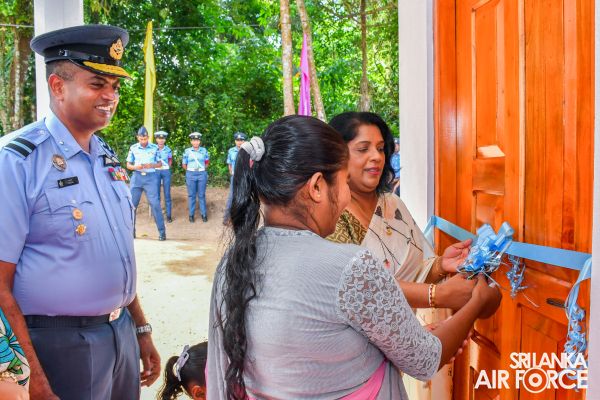 SLAF SEVA VANITHA UNIT CONDUCTS A HOUSE WARMING CEREMONY
5:47pm on Thursday 6th April 2023
The partially constructed house of Corporal Pathiranage J (deceased), who died on 24 December 2022 was fully renovated and completed under the patronage of the SLAF Seva Vanitha Unit and handed over to the spouse of the deceased Airman. The house warming ceremony held today (06 April 2023) at Sri Saddathissa Mawatha, Kindelpitiya, with the participation of the Chairperson of the SLAF Seva Vanitha Unit, Mrs. Charmini Pathirana as the Chief Guest.

The project was funded by the SLAF Seva Vanitha Unit, while the construction was carried out by staff of the Civil Engineering Wing at SLAF Base Katunayake. The overall project was completed under the directives of Director General Civil Engineering, Air Vice Marshal Udula Wijesinghe and the supervision of Base Commander SLAF Base Ratmalana, Air Commodore Amal Perera.

The Base Commander of SLAF Base Ratmalana, President Seva Unit SLAF Base Ratmalana, Mrs. Sharmila Samaranayake, Secretary SLAF Seva Vanitha Unit, Wing Commander Suresh Fernando, the staff of the SLAF Seva Vanitha Unit and a cross-section of officers and other ranks at SLAF Base Ratmalana participated in the event.