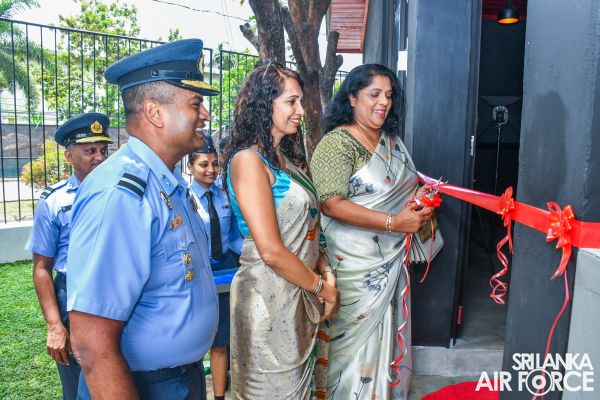 THE PHOTO BOOTH AND JUICE BAR WERE DECLARED OPEN BY CHAIRPERSON SEVA VANITHA UNIT
5:47pm on Thursday 6th April 2023
The Seva Vanitha Photo Booth and the Juice Bar were declared open by the Chairperson of the SLAF Seva Vanitha Unit, Mrs. Charmini Pathirana, today (06th April 2023) at the Sri Lanka Air Force Museum in Ratmalana.
This project was conceptualized with the aim of providing visitors with memorable and affordable souvenirs while enhancing the demand and significance of this establishment.
The SLAF Museum is a prominent Air Force facility that not only showcases the achievements of the SLAF but also inspires young minds. Visitors are often seen capturing moments of their visit on camera, and this project is expected to attract more outside visitors to the museum.
The entire project was administered by Director General of Civil Engineering, Air Vice Marshal Udula Wijesinghe and conducted under the supervision of Base Commander of SLAF Base Ratmalana, Air Commodore Amal Perera and Commanding Officer of Air Force Museum Ratmalana, Air Commodore Charith Bodhiseela.

The opening ceremony was attended by the presence of Mrs. Sharmila Samaranayake, President of Seva Unit SLAF Base Ratmalana, Wing Commander Suresh Fernando, Secretary of SLAF Seva Vanitha Unit, a cross-section of officers and other ranks from SLAF Base Ratmalana and the staff of the Seva Vanitha Unit.

Overall, the opening of the Seva Vanitha Photo Booth and Juice Bar at the Sri Lanka Air Force Museum in Ratmalana is a notable development that promises to enrich the visitor experience while enhancing the reputation and value of this iconic establishment.