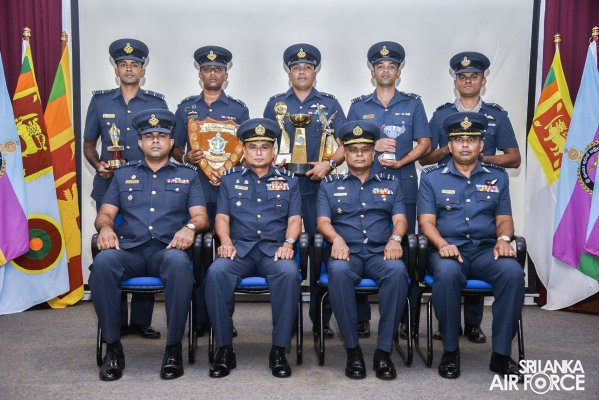 GRADUATION CEREMONY OF THE NO 72 JUNIOR COMMAND AND STAFF COURSE
9:02pm on Friday 7th April 2023
The Graduation Ceremony of the No 72 Junior Command and Staff Course was held today (07 April 2023) at the Junior Command and Staff College Auditorium at the SLAF Academy China Bay. The Director General General Engineering, Air Vice Marshal KGDN Jayasinghe graced the ceremony as the Chief Guest.

The ceremony marked the end of a 14-week long course attended by a total of 27 Officers out of which 26 Officers were from the SLAF in the rank of Squadron Leader and Flight Lieutenant, and one Officer from Sri Lanka Navy.

The Junior Command and Staff College is accredited to the General Sir John Kothalawala Defence University and the Officers who fulfill the required criteria will be offered a Post Graduate Diploma in Defence Management.

AWARD WINNERS OF THE COURSE NO 72 JUNIOR COMMAND AND STAFF COURSEBEST ALL ROUND OFFICER
Flight Lieutenant ANS Warunage (General Duties Pilot)
BEST STUDENT IN ACADEMICS
Flight Lieutenant ANS Warunage (General Duties Pilot)
BEST BOOK REVIEW
Squadron Leader SAL Samarasinghe (Civil Engineering)
BEST PUBLIC SPEAKER
Squadron Leader SFMF Marikkar (Aeronautical & General Engineering)

BEST SPORTSMAN
Squadron Leader TBH Shakkyabandara (Regiment)
BEST IN MANAGEMENT STUDIES
Flight Lieutenant ANS Warunage (General Duties Pilot)

EXCELLENCE IN AIR POWER STUDIES
Squadron Leader WPSK Premarathne (General Duties Pilot)