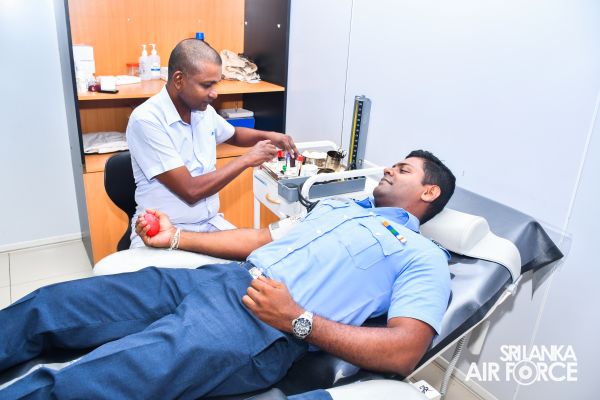 SLAF BASE RATMALANA CELEBRATES 38 YEARS OF SERVICE TO THE NATION
2:23pm on Tuesday 25th April 2023
SLAF Base Ratmalana celebrated 38 years of service to the nation on 23 April 2023. In line with the anniversary, the customary Working Parade was held today (25 April 2023). The parade, which was commanded by Wing Commander Gajaba Kumarasiri, was reviewed by the Base Commander, Air Commodore Amal Perera. The Base Commander addressed the parade, where he paid tribute to those who commanded the Base before him and to those who served previously at Ratmalana. He also emphasized that he expected the utmost dedication and commitment from all personnel at the Base in order to face the challenges of the future. In line with the Anniversary celebrations, a Blood Donation Campaign was conducted yesterday (24 April 2023) at the Apeksha Hospital in Maharagama. The anniversary programme was concluded with an all-ranks breakfast this morning.
On the 23rd of April in the year 1985, the then Minister of Defence (late) Hon. Lalith Athulathmudali declared open SLAF Base Ratmalana on the invitation of the then Commander of the Air Force, Air Vice Marshal DC Perera. The Base was initially commanded by Wing Commander CN Thudugala and expanded in strength and capacity over time.
The Base is home to the No. 4 VVIP Helicopter Squadron, the No. 8 Light Transport Squadron and the 61 Helicopter Flight. In addition to the flying formations, it presently houses a number of support formations as well. Namely, the No. 27 Regiment Wing, the No. 2 Electronics and Telecommunication Engineering Wing, the Aeronautical Engineering Support Wing, the Air Field Construction Wing and the Base Hospital along with a rugby ground of international standards, squash complex, swimming pool and a multi-functional reception hall. Apart from that, Ratmalana Air Base is famous for the Museum which depicts the military aviation history of the SLAF. The Base contributed immensely during the humanitarian operations and during the COVID-19 pandemic as well. The Base holds significance with the re-opening of the Ratmalana International Airport and provides assistance for its smooth functioning.

.