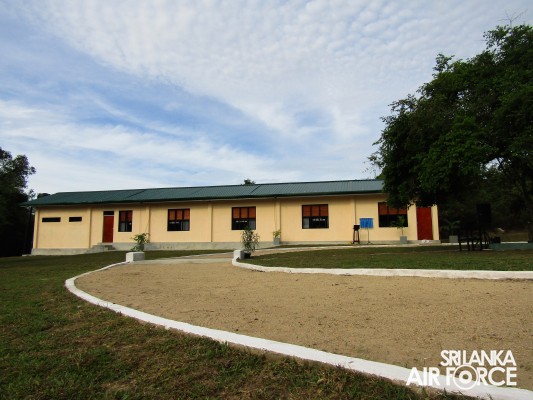 NEWLY CONSTRUCTED INSTRUCTORS' BILLET AT SLAF STATION AMPARA DECLARED OPEN ON VIRTUAL PLATFORM
3:08pm on Friday 12th May 2023
The newly constructed "Instructors' Billet" at Regimental Training Centre, SLAF Station Ampara, was declared open by the Commander of the Air Force, Air Marshal Sudarshana Pathirana, on a virtual platform today (12 May 2023). The billet comprises 44 accommodation facilities, complete with attached bathrooms and a badminton court located on its premises.

The construction of the billet was undertaken by the Civil Engineering Staff at SLAF Station Ampara, which was completed within six months. The Commanding Officer SLAF Station Ampara, Group Captain Nishantha Priyadarshana, Officer Commanding Training Regimental Training Centre, Wing Commander Prabath Molligoda, all officers and instructors of the Regimental Training Centre and a cross-section of airmen attended the opening ceremony.

The new Instructors' Billet at the Regimental Training Centre will indeed serve as an asset in providing much-needed lodging facilities to the instructors who will be dedicating the Training Centre.

Newly constructed "Instructors' Billet"