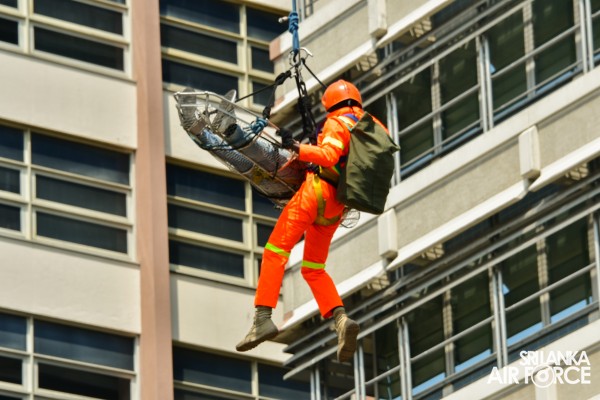 SLAF CONDUCTS A FIRE AND RESCUE DRILL AT THE CENTRAL BANK OF SRI LANKA
3:27pm on Friday 19th May 2023
The Fire and Rescue Service of the SLAF successfully conducted a comprehensive Fire and Rescue Drill at the Central Bank of Sri Lanka today (19 May 2023) under the solemn approval of the Commander of the Air Force, Air Marshal Sudarshana Pathirana.

A dedicated team of over 30 highly skilled SLAF firefighters and supporting staffs actively participated in the exercise, which was led under the guidance of Director General Air Operations, Air Vice Marshal Sampath Wickramaratne and Director General Ground Operations, Air Vice Marshal Waruna Gunawardana and also under the supervision of Group Captain Sanjaya Vithana, the Chief Fire Officer of the SLAF and the Exercise Commander, Wing Commander Chamil Hettiarachchi.

A hypothetical situation has been created in which the 8th floor has caught fire due to a power surge. Throughout the drill, the SLAF firefighters expertly showcased the proficiency in rescue tactics, particularly highlighting Aerial Sky Ladder Operations, Breathing Apparatus Operations and Rope Rescue Operations. This exercise effectively portrayed operational readiness, firefighting skills and response capabilities concerning Hazardous materials (Hazmat).

The drill was executed with utmost professionalism and precision, ensuring the safety of all involved and effectively simulating a real-life emergency scenario. The successful completion of this fire and rescue drill at the Central Bank of Sri Lanka serves as proof of the SLAF Fire and Rescue Service's unwavering commitment to safeguarding lives, property and critical infrastructure. The continued efforts to enhance their skills and capabilities are essential to providing a safe environment for all Sri Lankans.