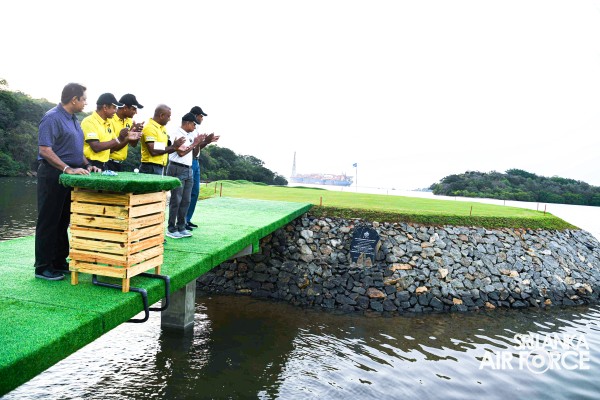 NEWLY DESIGNED ISLAND GREEN DECLARED OPEN BY THE COMMANDER
5:23pm on Saturday 20th May 2023
The newly designed Commander's Island Green was declared open by the Commander of the Sri Lanka Air Force, Air Marshal Sudarshana Pathirana today (20 May 2023). This exceptional addition to Sri Lanka's golfing landscape marks a significant milestone, as it stands as the first of its kind among all the golf courses in the country.

The concept was brainchild by Air Marshal Sudarshana Pathirana, the Commander's Island Green potentials to infuse an extra layer of excitement and intrigue into the already renowned Eagles' Golf Links China Bay. Renowned for its reputation as one of the most challenging courses in the region, this new island green is poised to push even the most proficient golfers to their limits, making it a magnet for golf enthusiasts from far and wide who seek to test their skills.

Situated on the picturesque east coast of Sri Lanka, Eagles' Golf Links China Bay stands as the country's fourth and only golf course in the region. Spanning 18 holes, the course offers a total of 6,323 yards, providing golfers with an exhilarating, enjoyable and distinctive golfing experience. As players navigate their way through the course, they are greeted by stunning fairways, adorned with magnificent trees and Tifdwarf greens that further enhance the allure of this golfing haven.

The newly constructed 92 x 61ft Island Green, is a par 4 with 382 yards for the championship tee with a stroke index of 4. This meticulously crafted green, strategically positioned on its own island, will undoubtedly pose a formidable challenge for golfers of all calibers, contributing to the allure of Eagles' Golf Links China Bay as a premier destination for golf fans.
This remarkable addition is poised to attract golfers from around the world, enticed by the prospect of testing their game on this unique, intriguing and thrilling island green.