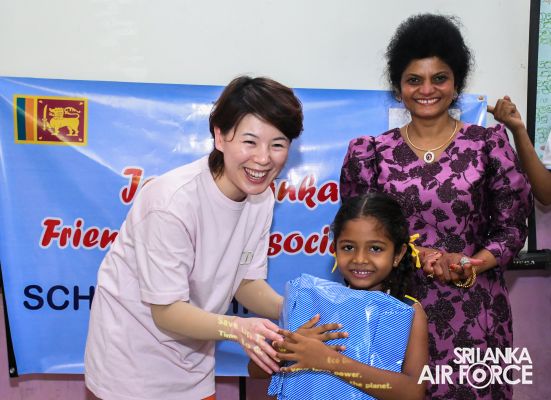 JAPAN – LANKA FRIENDSHIP ASSOCIATION VISITS AT SIGIRIYA
9:37pm on Wednesday 24th May 2023
The Japan-Sri Lanka Friendship Association made a significant contribution to the Sigiriya community today (24 May 2023), solidifying its presence and commitment to fostering bilateral relations. The initiative carried out with the approval of the Commander of the Air Force, Air Marshal Sudarshana Pathirana and under the supervision of Commanding Officer of SLAF Station Sigiriya, Group Captain Chaminda Herath, aimed to support low-income families in the area.

Mr. Goto Hideaki, accompanied by a delegation from the association, displayed the benevolence by generously donating a consignment of reading spectacles to the local community in Sigiriya. Furthermore, on the same day, a momentous event took place at Thalkote Primary School in Sigiriya. Mr. Goto Hideaki and the delegation actively participated in the donation of five scholarships and essential school supplies for the children in need. The event was attended by Dr. Eranga Hasanthi, officers and airmen from SLAF Station Sigiriya, as well as students, parents and staff of Thalkote Primary School.

The execution of the donation event at the school was carried out meticulously, effectively conveying the objectives of the community service project. The occasion served as a memorable day, not only for Mr. Goto Hideaki and the delegation but also for all those involved, as they collectively worked towards enhancing educational opportunities and alleviating the burdens faced by underprivileged children.

Through these endeavors, the Japan-Sri Lanka Friendship Association demonstrated its unwavering commitment to fostering friendship and cooperation between the two nations.