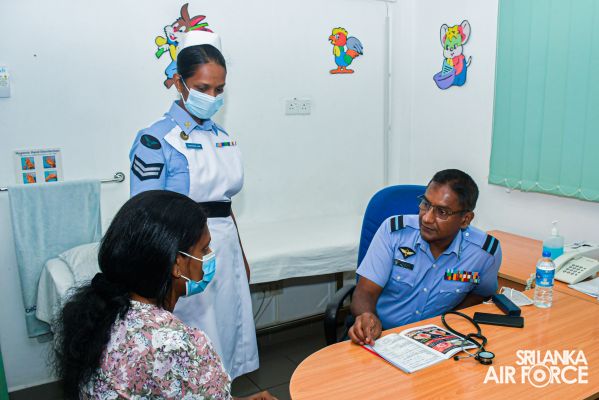 SLAF HOSPITAL COLOMBO COMMENCES THE 'HEALTHY LIFE CENTRE'
10:17pm on Thursday 25th May 2023
SLAF Hospital Colombo commenced the "Healthy Life Centre" and successfully conducted a special medical screening programme this morning (25 May 2023) under the guidance of Director General Health Services, Air Vice Marshal (Dr.) Lalith Jayaweera, with the assistance of the Regional Director of Health Service Office Western Province and Child and Maternity Health Unit Colombo Municipal Council.

The primary objective behind the launch of the Healthy Life Centre is to offer comprehensive medical screening facilities for the spouses of service members. The hospital plans to conduct this program on a monthly basis, ensuring the provision of regular healthcare services to this specific group.

SLAF medical officers, a medical officer from the Western Province Regional Director of Health Service Office, resident specialists and seven supporting medical staff from the Child and Maternity Health Unit of Colombo Municipal Council and SLAF Medical staff conducted the screening programme, which was immensely beneficial to spouses and parents of serving members of the SLAF.

The medical screening encompassed a wide range of examinations and services to ensure comprehensive care. These included BMI measurement, dental examinations, general medical evaluations, eye clinics, cardiology referrals, radiology referrals, gynecologist referrals, Pap smear tests, breast examinations, laboratory investigations and other specialized facilities. The inclusion of these services aimed to provide a holistic approach to healthcare, addressing various aspects of well-being and early detection of potential health issues.

The commencement of the "Healthy Life Centre" and the successful execution of the inaugural medical screening programme mark a significant milestone for SLAF Hospital Colombo in its commitment to enhancing the healthcare services provided to the next of kin of service members.