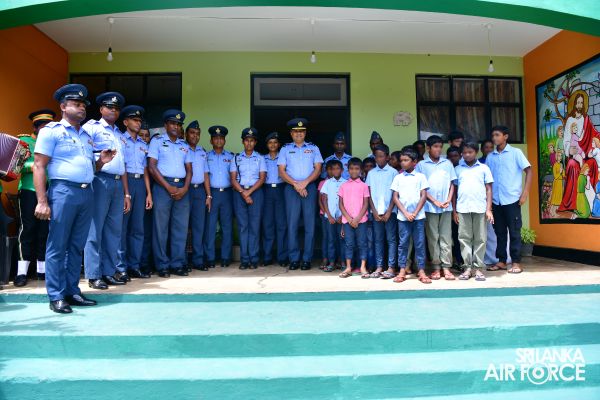 55TH PHASE GUWAN MITHUDAM PROJECT CONCLUDES AT GAMPAHA
1:56pm on Friday 26th May 2023
The 55th phase of the 'Guwan Mithudam' project concluded successfully yesterday (25 May 2023), at the Arklow Children's Home in the Gampaha District. The project was carried out under the guidance of Mrs. Charmini Pathirana, the Chairperson of the SLAF Seva Vanitha Unit, by SLAF Base Katunayake.

The Arklow Children's Home provides shelter for approximately 26 children of varying ages. In this phase of the project, extensive renovations were undertaken to improve the facility. The renovation work included repairing the roof, colour-washing the building, refurbishing the cement floor, fixing classroom chairs and tables, repairing doors, ensuring proper water and electricity supply lines and installing new fans, among other necessary repairs. These efforts aimed to create a safer and more comfortable living environment for the children.

Upon the completion of the project, the building was formally handed over to the children by Air Commodore Saman Udukumbura, the Acting Base Commander of SLAF Base Katunayake. The ceremony marked the successful conclusion of the project, highlighting the commitment of the SLAF Seva Vanitha Unit and SLAF Base Katunayake to support and uplift the living standards of these children.

Funding for the project was provided by the SLAF Seva Vanitha Unit and SLAF Base Katunayake, demonstrating the dedication to social welfare initiatives. The ceremony was attended by a cross-section of officers and other ranks from SLAF Base Katunayake, as well as the children residing in the children's home.