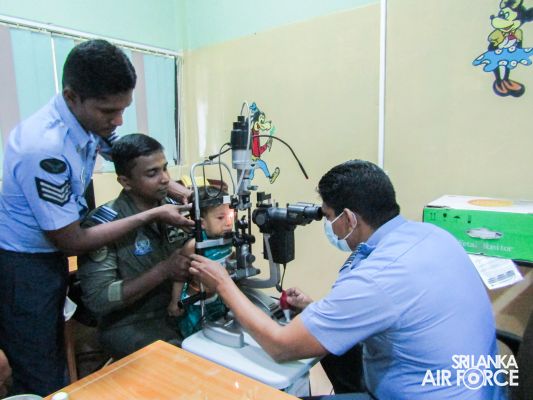 SLAF HOSPITAL KATUNAYAKE CONDUCTS FAMILY HEALTH WEEK
4:16pm on Tuesday 30th May 2023
SLAF Hospital Katunayake conducted a series of health clinics and screening programmes for the family members of service personnel and civilians under the supervision of Director General Health Services, Air Vice Marshal (Dr.) Lalith Jayaweera. The programme was implemented collaboratively with the support of the Medical Officer of Health Office in Gampaha and the District General Hospital in Negombo.

Medical clinics and other health facilities have been provided during the programme by conducting diabetes and foot care clinics, screening for non-communicable diseases (diabetes & cholesterol), Suwanari clinics for screening purposes, eye clinics and required services, consultations by the clinical psychologist, consultations by the nutritionist and pediatric clinics for screening purposes of children under all age groups.

The medical screening programme was immensely beneficial for the family members of serving personnel at SLAF and concluded with a general medical evaluation, dental examination, PAP smear tests, breast examination, laboratory investigations and BMI measurements with required advice.

This programme is a significant milestone for SLAF Hospital Katunayake in promoting a healthy lifestyle among SLAF personnel and family members.