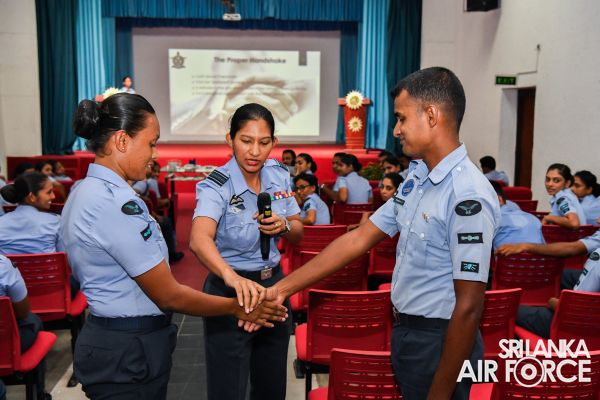 A SPECIAL GROOMING SESSION FOR SLAF PERSONNEL
4:28pm on Wednesday 31st May 2023
The Sri Lanka Air Force Women's Wing, under the guidance of the Commanding Officer of the Women's Wing, Air Commodore Manoaj Kappetipola, organized a comprehensive full-day grooming session for SLAF personnel yesterday (30 May 2023). The event, held at the SLAF Trade Training School in Ekala, aimed to address important subjects such as Sexual Harassment and Associated Punishments, Grooming Techniques, Cultivating Healthy Relationships, and a Motivational Lecture.

The grooming session garnered significant participation and enthusiasm from over 300 SLAF personnel, including officers, lady officers, airmen, and airwomen. The event featured insightful presentations and workshops facilitated by resource personnel, including the Commanding Officer of SLAF Women's Wing, Air Commodore Manoaj Kappetipola, the Commanding Officer Volunteer Air Force, Air Coommodore Rajinth Jayawardena, Wing Commander Prabuddha Dahanayake, Squadron Leader Viludani Yatawara, Squadron Leader Lilangi Randeni, and Flight Lieutenant Umavi Wijerathne.

Throughout the day, the sessions were conducted with utmost professionalism and provided valuable knowledge and guidance to the attendees. The subject matter experts addressed the critical issue of Sexual Harassment and Associated Punishments, shedding light on the importance of preventing and combating such behaviour within the SLAF. The grooming session encompassed various aspects of personal presentation and hygiene, highlighting their significance in maintaining a professional image and boosting self-confidence.

Additionally, the event explored the topic of cultivating healthy relationships, emphasizing the importance of effective communication, mutual respect and understanding in fostering harmonious interactions among SLAF personnel. A motivational lecture provided further inspiration, motivating the participants to strive for excellence in their personal and professional lives.

The event served as an invaluable platform for SLAF personnel to acquire knowledge, skills and insights, contributing to their personal growth and the overall enhancement of the Sri Lanka Air Force.