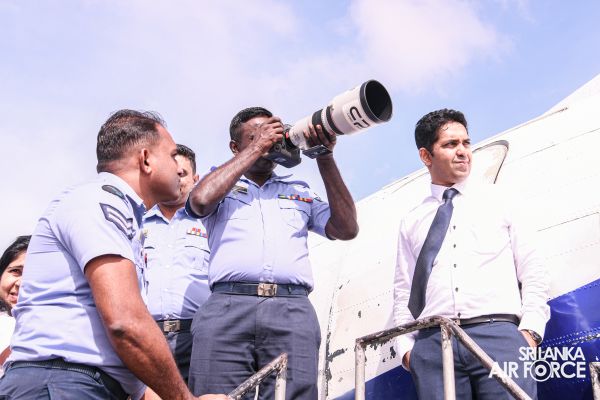 SLAF CAMERAMEN EMPOWERED WITH CUTTING-EDGE OF MIRRORLESS CAMERA AND VIDEO TECHNOLOGY
9:28pm on Wednesday 6th September 2023
In the ever-evolving landscape of media and communication, the role of imagery and videography has become paramount. Whether it's capturing historic moments, showcasing achievements, or telling compelling stories, the art of visual storytelling is an indispensable tool. Recognizing this, the Sri Lanka Air Force (SLAF) organized a workshop on Mirrorless Camera and Video Camera Technology, held at the picturesque SLAF Museum premises on 05 September 2023. This workshop aimed not only to enhance the skills of SLAF cameramen but also to empower them with the latest technology and techniques while enhancing efficiency.

The significance of this workshop cannot be overstated. SLAF cameramen are the eyes and ears of the institution, responsible for documenting its activities, history, and values. In a world where information is disseminated at lightning speed, the quality and impact of visuals matter more than ever. This workshop was a testament to the SLAF's commitment to excellence in its media and communication efforts.

A group of 42 SLAF cameramen participated in the one-day workshop and they were extensively exposed to the hands-on experience of the latest mirrorless camera and video camera productions. The renowned experts in the video and photography industry shared their experiences and much-valued knowledge during the workshop. A special acknowledgment must be given to Metropolitan Technologies Pvt Ltd for their invaluable support in making this workshop a reality. Their commitment to empowering SLAF's cameramen by providing resource personnel and expertise played a pivotal role in the success of this event.

Recognizing the participants' commitment to learning, certificates were awarded by the Director of Metropolitan Technologies Mr Taslim Rahaman along with Staff Officer General Engineering II at AFHQ, Wing Commander Chamila Kahandakoralage. The workshop was concluded with much more success and finally, participants appeared together for a group photograph to capture this memorable moment.