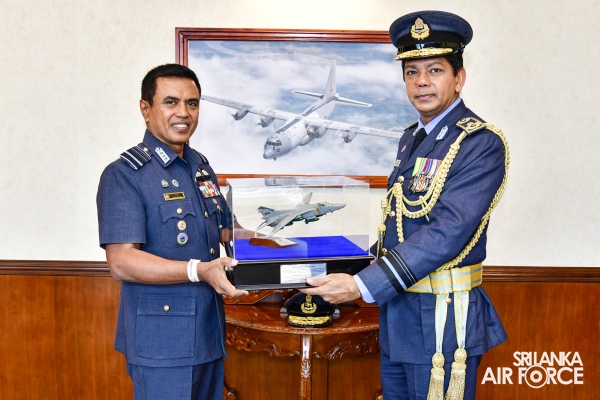 AIR VICE MARSHAL ROSHAN BIYANWILA BIDS ADIEU TO THE SRI LANKA AIR FORCE
4:01pm on Friday 15th September 2023
Air Vice Marshal Roshan Biyanwila, VSV, USP, MBA (UK), ndc (Ind), psc, bid adieu to the Sri Lanka Air Force yesterday (14th of September 2023) after more than 35 years of dedicated service to the nation. At the time of his retirement, he held the appointment of Deputy Chief of Staff of the Sri Lanka Air Force.

Air Vice Marshal Biyanwila made an official farewell call on the Commander of the Air Force, Air Marshal Udeni Rajapaksa, at his office on the 13th of September 2023. The Commander commended him for his dedicated long years of service rendered to the nation and to the Sri Lanka Air Force in particular. The Commander also emphasized that he was one of the key stakeholders during the time of need of our motherland and that his illustrious career will remain etched in the annals of the SLAF. The Commander and Air Vice Marshal Biyanwila exchanged mementoes to mark the occasion. He was accorded a Ceremonial Guard of Honour by the SLAF Colour Wing on the 14th of September 2023 before he departed from Air Force Headquarters for the last time.

He joined the Sri Lanka Air Force on the 17th of May 1988 as an Officer Cadet in Intake 19 and was commissioned as a Pilot Officer in the Administrative Branch in the year 1990. He has completed various training courses during his illustrious career. He attended the Defence Command Staff Course at the Defence Services Command and Staff College, Sapugaskanda. Moreover, he completed the National Defence Course in India and also earned his Master of Business Administration in the United Kingdom.

Air Vice Marshal Biyanwila steadily achieved many professional milestones and held numerous prestigious key appointments in the Administrative Branch. These include Assistant Staff Officer Discipline II at the AFHQ, Officer Commanding Station Services at SLAF Base Vavuniya, Officer Commanding Personnel Services at SLAF Academy China Bay, Directing Staff at Junior Command and Staff College SLAF Academy China Bay, and various appointments at the Directorate of Administration in AFHQ, such as Assistant Staff Officer Discipline I, Staff Officer (Discipline Matters of Service Personnel), Assistant Staff Officer Records (Airmen's/Airwomen's Personnel Administration), and Staff Officer (Officers' Personnel Administration). He also served as Staff Officer to the Commander of the Air Force, Air Secretary of SLAF, Deputy Director Administration (Personnel), Commanding Officer Women's Wing, and Director General Administration before being appointed as the Deputy Chief of Staff of the SLAF.

He held appointments in the Sri Lanka Air Force Sports Council and served as Secretary AFSC, Chairman SLAF Cricket, Member SLAF Sports Advisory Committee, and Chairman SLAF Sports Advisory Committee. He has been awarded the Sri Lanka Armed Services Long Service Medal with Clasp, the "Uttama Seva Padakkama," and the "Vishishta Seva Vibhushanaya" for his distinguished and exemplary service.