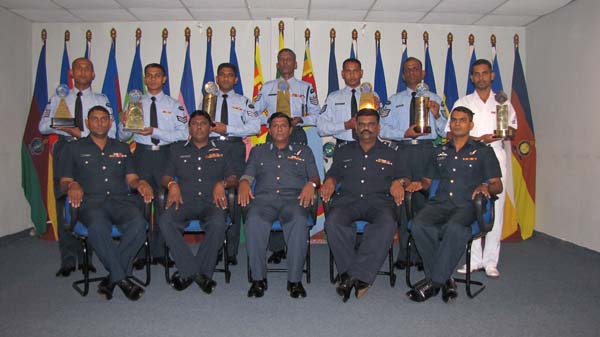 41st Batch of Academically Qualified Non-Commissioned Officers Pass Out
2:16pm on Monday 15th March 2010
The NCO Management School, established with the prime intention of providing sound academic knowledge to the Non Commissioned Officers of the SLAF, held its graduation ceremony for the 41st Batch of NCO's to complete the course recently (12th march 2010). The course which has a duration of approximately 3 months mainly focuses on sharpening the leadership and management skills of its trainees.
This course which isaccredited to the University of Rajarata was followed successfully by 59 students. The Batch comprised 29 Senior Non Commissioned Officers, 28 Junior Non Commissioned and 02 Naval Petty Officers.
The Awards ceremony was held at the NCO Management School Auditorium at SLAF Base China Bay in which Director General Engineering Air Commodore BLW Balasuriya graced the occasion as the Chief Guest. The Commandant of the SLAF Academy, China Bay Air Vice Marshal KVB Jayampathy, Commanding Officer of the Junior Command and Staff College Group Captain JSI Wijemanna, Commanding Officer of the Non Commissioned Officers Management School Wing Commander TVD Deshappriya, Commanding Officer of the 23 Regiment Wing, Wing Commander CJ Batagoda, Commanding Officer of the No 01 Flying Training Wing, Wing Commander Aranayaka and Commanding Officer of the No. 03 Air Defence Radar Squadron, Squadron Leader TB Premaratna were among the other distinguished guest to attend this event.
Wing Commander TVD Deshappriya functions as the Commanding Officer of this school whilst Squadron Leader VTS Sirimanna, Squadron Leader AMPP Jayawardana and Squadron Leader PS Jayawicrama play the roles as Chief Instructor, Senior Instructor and Directing Staff respectively.
The award winners of 41st NCO Management Course are as follow
SNCO's Category
Best All Round SNCO - L 19683 PO Manaram KHN - Electrical
2nd Place - 13275 WO Iddamudalige IMHS
*
- Air Frame Sp I
3rd Place - 15133 F/Sgt Ruwan JWU - Clk Gd Sp I
Best Public Speaker - 15133 F/Sgt Ruwan JWU - Clk Gd Sp I
Best Physical Fitness - 16770 Sgt Weerathunga MSK - PTI Sp I
JNCO's Category
Best All Round JNCO - 17427 Sgt Nandana PBY * - Aero Eng Fitter Sp I
2nd Place - 17195 Sgt Ilangaratna IPSG * - Aero Eng Fitter Sp I
3rd Place - 15985 Sgt Pushpakumara AMLJW * - Local Controller
Best Public Speaker - 16255 Cpl Wijeratna PD - Ops Grd II
Best Physical Fitness - 22065 Cpl Chamith Yapa YMCI - Fire Sp I I
* -
Recently Promoted