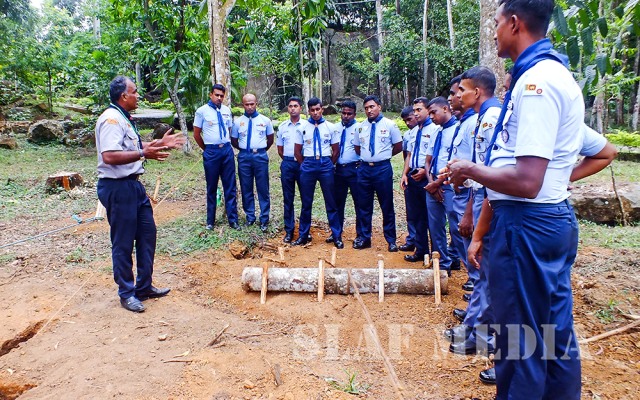 Air Scout Masters Pioneering Workshop at SLAF Station Mirigama
1:26pm on Monday 23rd July 2018
The Sri Lanka Air Force Air Scout Masters successfully completed a Pioneering Workshop from 20th to 21st July 2018 at SLAF Station Mirigama. There were 23 Air Scout Masters in attendance for the progrmme with 03 Scout instructors.

Pioneering Workshop was conducted by Mr. Ruwan Ariyarathna, National Scout Headquarters Commissioner and Mr. Nil Nandasiri, Assistant District Commissioner Gampaha District.

Chief Group Scout Master of SLAF Air Scout Group Group Captain Paminda Jayawardena, Acting Commanding Officer of SLAF Station Mirigama Wing Commander PC Dissanayaka, Group Scout Master of 57th Colombo Air Scout Group Wing Commander LSR Pagoda, Group Scout Master of 1st Gampaha Air Scout Group Wing Commander DNS Halahakoon, Officer Commanding Defence of SLAF Station Mirigama Squadron Leader SDDJ Ranasinghe. and other Scout Masters of the SLAF also participated in the event.