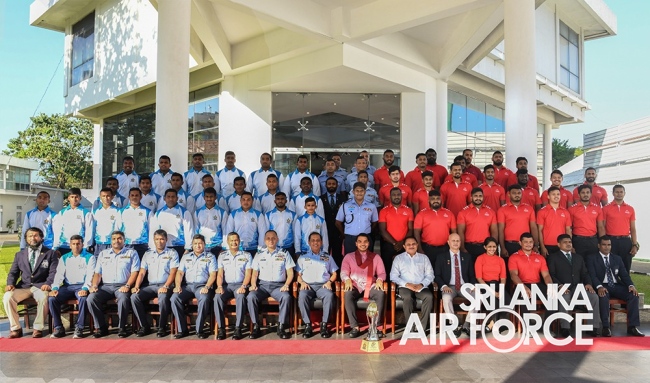 COMMANDER'S CUP RUGBY ENCOUNTER TROPHY OFFICIALLY HANDED OVER TO CH & FC
4:23pm on Tuesday 28th December 2021
CH & FC secured the win during friendly Rugby encounter with the SLAF kicked off its 1st and 2nd legs on 13th and 22nd of August respectively in this year. The Ceremony of officially handing over of the Commander's Cup Trophy was held today (28 December 2021) at Air Force Headquarters under the patronage of the Minister of Youth and Sports, Minister of Development Co-ordination and Monitoring, State Minister of Digital Technology and Enterprise Development, Hon. Namal Rajapaksa on the invitation of the Commander of the Air Force, Air Marshal Sudarshana Pathirana.

Medals were awarded to the Runner Up Team from the SLAF by the Chief of Staff, Air Vice Marshal Prasanna Payoe followed by the Commander awarding medals to the Winning Team, CH & FC. The prestigious Commander's Cup Trophy was officially handed over to the Captain of the CH & FC Team, Sudarshana Muthuthanthri by the Chief Guest, Hon. Namal Rajapaksa. In conclusion, the Commander also presented a special memento to the Chief Guest, Hon. Namal Rajapaksa in appreciation of his untiring effort to revive the sport of Rugby in Sri Lanka after the pandemic.

State Minister of Rural and School Sports Infrastructure Improvement, Hon. Thenuka Vidanagamage, Members of the SLAF Sports Advisory Board, Members of the Air Force Sports Council and Officials from CH & FC management attended the occasion.