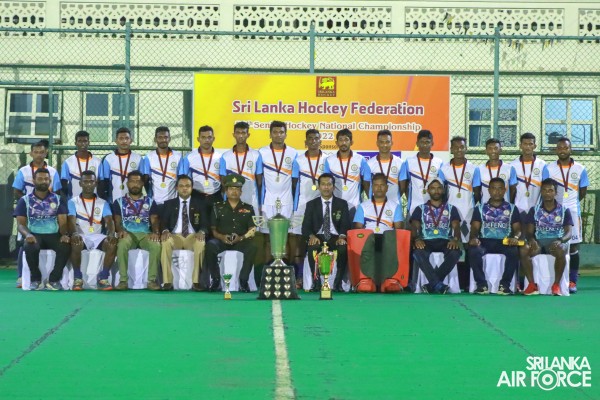 DEFENCE SERVICES HOCKEY TEAM ACHIEVES VICTORY IN THE 59TH SENIOR HOCKEY NATIONAL CHAMPIONSHIP - 2022
8:51pm on Sunday 25th September 2022
The Defence Services Hockey Team emerged victorious with the triumph over the Mercantile Hockey Association team during the finals in the 59th Senior Hockey National Championship 2022 today (25 September 2022) at Astro Hockey Turf, Colombo 07.

17 Hockey Teams strived in the tournament and Defence Services Hockey Team earned the spot by defeating the Colombo Hockey Team in a diligently contested semifinal. Ultimately, the Defence Services Hockey Association team was honoured for the title by defeating the Mercantile Hockey Team 04-00 during the Grand Finale.

The President Sri Lanka Olympic Committee, Mr. Suresh Subramaniam graced the Awarding Ceremony as the Chief Guest. The victorious Defence Services Hockey Team was comprised of 08 SLAF, 07 SL Army and 03 SL Navy exuberant Hockey Players and was led by Corporal Rathnasiri CMTD from SLAF.