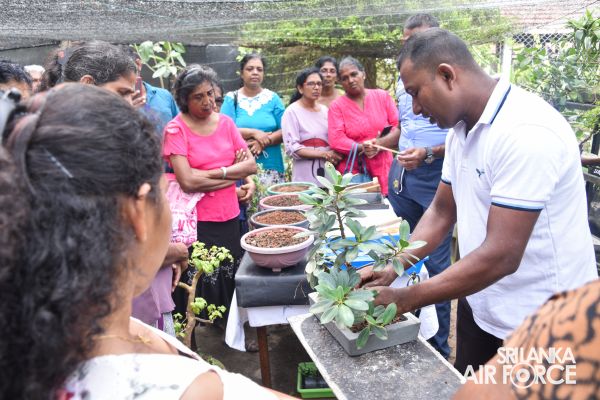 COMMAND AGRO UNIT OFFERS A SPECIAL WORKSHOP ON DAIRY PROCESSING AND BONSAI ART FOR THE FARMERS ASSOCIATION ANDIAMBALAMA
5:38pm on Saturday 8th October 2022
Command Agro Unit at SLAF Base Katunayake conducted a special workshop for the Members of the Farmers Association of Agrarian Service Center Andiambalama on production of Dairy and creation of Bonsai plants on 04 and 05 October 2022 under the guidance of Commander of the Air Force, Air Marshal Sudarshana Pathirana.

The workshop was conducted as a social service project for the total numbers of 30 Farmers and two Agriculture Research and Development Assistants in the area. The practical and theoretical knowledge imparted during the workshop that will be useful for them to develop their self-employment skills and uplift the economic status of their families.

The programme was held under the guidance of Command Agro Officer, Group Captain Erandika Gunawardene. The instructors of the Command Agro Unit, Sargent Jayawardena JATNS, Sargent Wanniarachchi UHS, Sargent Wijethunga HH and Corporal Amarathunga AAGRK conducted the training under the instructions of Squadron Leader KAMKP Jayasiri as the training Coordinator.