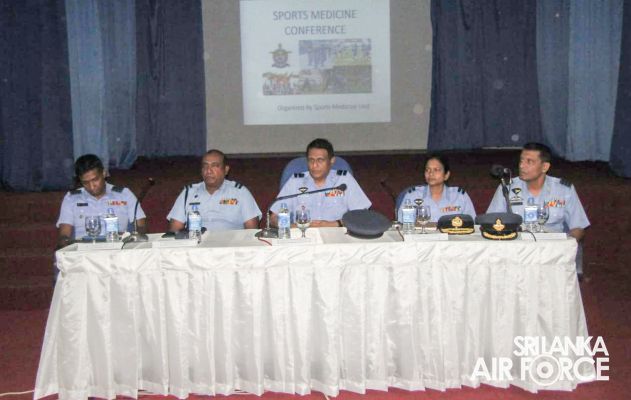 INAUGURAL CONFERENCE OF SPORTS MEDICINE TO UPLIFT THE PERFORMANCES OF SLAF SPORTSMEN AND WOMEN
2:51pm on Wednesday 12th October 2022
The inaugural Conference of Sports Medicine was held yesterday (11 October 2022) at the auditorium SLAF Station Ekala. The conference was chaired by the Director Health Service Air Vice Marshal (Dr) Lalith Jayaweera and was attended by Director Sports, Secretary Air Force Sports Council, Commanding Officer SLAF Station Ekala, Commanding Officer SLAF Base Hospital Katunayake, Officials of Sports Medicine Unit, Chairmen, Secretaries, Officer In Chargers, Coaches, Assistant Coaches, Managers, Captains and Vice-Captains of all SLAF Sport disciplines.

The conference had three principal objectives that the enhancing knowledge of the Sports Medicine Unit's capabilities, inspiring sportsmen to make the best use of available resources and improve players' performances in championships at the national and international levels.

The content of the conference was focused on Medical Management, Psychological Support, Injury Management, Anti-Doping and Nutritional Support for players.

In addition, the Sports Medicine Unit emphasised the necessity of having a system to evaluate the performance of players and supporting personnel, to carry out physical fitness tests to uphold the players' medical, physical, psychological and nutritional standards, necessity of Data base to develop individual player profiles and train of trainers programme.