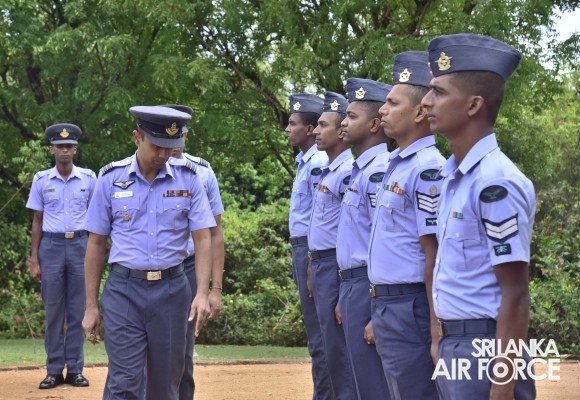 NO 06 RADAR SQUADRON AT SLAF ACADEMY CHINA BAY CELEBRATES 13TH ANNIVERSARY
2:01pm on Sunday 16th October 2022
The No 06 RADAR Squadron at SLAF Academy China Bay celebrated its 13th Anniversary today (15 October 2022). The Squadron was formed as an integral element of National Air Defence System which was commissioned as a fully operational Squadron on 15 October 2009 at SLAF Station Weerawila. Later on the Squadron was relocated to SLAF Academy China Bay on 05 May 2012 in order to meet the operational necessities of National Air Defence System.

Marking the occasion, the customary working parade was held at the Squadron premises, which was reviewed by the Commanding Officer, Wing Commander SMK Gunarathne. Subsequently, a tree planting programme was conducted at the Squadron premises.

In line with the anniversary celebration a Shramdana Campaign was conducted at Samuddrasanna Temple in Kinniya. Further, to make the event more memorable, a special event was organized for the children of Revatha Children's Home. Several entertainment events were arranged for the children at the Marble Beach premises including Beach Volleyball matches, sea baths and calypso music session with amusing games. Finally, the anniversary day was concluded after distributing gift packs and lunch packets to the children.