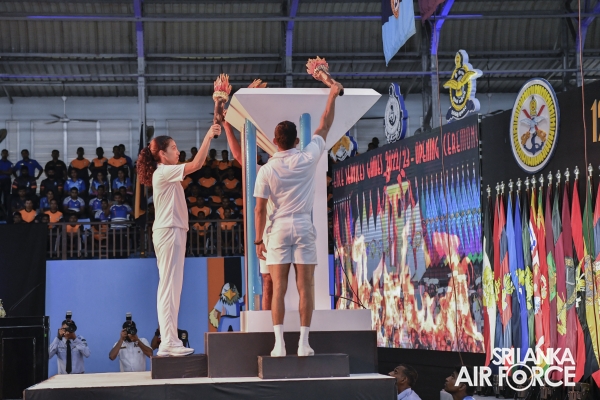 12TH DEFENSE SERVICES GAMES CEREMONIALLY COMMENCE AT SRI LANKA ARMY INDOOR STADIUM, PANAGODA
2:54pm on Wednesday 19th October 2022
The 12th Defense Services Games, where the three armed services engage in sportsmanship, ceremonially commenced today (19 October 2022) at the Sri Lanka Army Indoor Stadium in Panagoda with the gracious presence of Secretary to the Ministry of Defence, General Kamal Gunaratne (Retd).

During the ceremonial processions of the Opening Ceremony, the 'Welcome Speech' was delivered by the Chairman of the Organizing Committee of the 12th Defence Services Games Opening Ceremony, the Director of Ground Operations of the Sri Lanka Air Force, Air Vice Marshal Waruna Gunawardena. The customary Olympic Flame Lighting was ceremonially carried out by three athletes from Tri-Forces Corporal Kumara YDI, a keen performer in Weightlifting from Sri Lanka Army, Able Seaman PN Balawardana, an intense performer in Wushu and Mui Thai from Sri Lanka Navy, Corporal Perera LRD, a superwoman performer in Netball from Sri Lanka Air Force. Subsequently, the Athletes Oath for all sportsmen, women and officials was administered by the former Captain of the Sri Lanka Netball Team in 2018 and 2019 and present team member who paved beyond the Sri Lanka Netball to the Asian Netball Champions 2022 title, Squadron Leader Chathurangi Jayasooriya from Sri Lanka Air Force.

The Defence Services Games will begin on 26 October 2022 and last through October of the following year, with a total of 38 sports; 36 sports disciplines under the men's category and 32 under the women's category and with the participation of more than 4000 men and women representing Sri Lanka Army, Navy and Air Force.

The quintessential outcome of these games is to promote comradeship among servicemen and women of the nation. It is a platform which serves to strengthen the bonds of friendship and harmony among the tri forces, in the arena of sports and on the fields of friendly strife and also to identify the new and talented athletes to represent the national and international sports competitions and at the same time an opportunity to improve the own sporting skills of the experienced athletes as well.

The opening ceremony was attended by the incumbent President of the Defence Services Sports Board and the Commander of the Air Force, Air Marshal Sudarshana Pathirana along with Chief of Defence Staff, General Shavendra Silva, the Commander of the Sri Lanka Army, Lieutenant General Vikum Liyanage, Commander of the Sri Lanka Navy, Vice Admiral Nishantha Ulugetenne, special invitees, senior officers, brother and sister officers and sportsmen and women. This year's Defence Services Games is being hosted by the Sri Lanka Air Force with the direction of the President, Defence Services Sports Board along with the coordination of Secretary, Defence Services Sports Board Group Captain Eranda Geeganage and unwavering support by the members of the Sri Lanka Army and Navy.