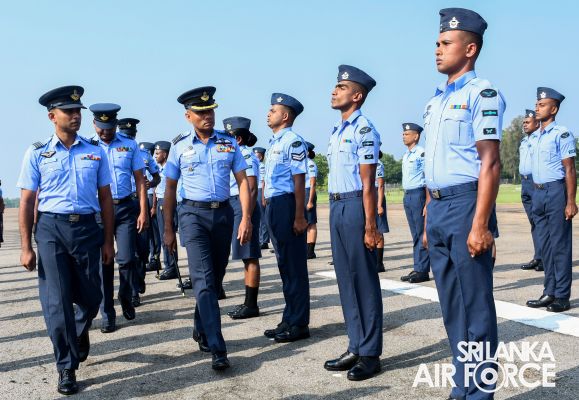 SLAF BASE VAVUNIYA PROUDLY CELEBRATES 44TH ANNIVERSARY
10:30am on Thursday 27th October 2022
SLAF Base Vavuniya celebrated its 44th anniversary and also the silver jubilee for being elevated as a 'Air Force Base' today (27 October 2022) with a series of Corporate Social Responsibility projects, recreational and religious activities under the guidance of the Base Commander, Group Captain PN Gunthilake together with all Officers, other ranks and the civil staff.

The day's proceedings ensued with the customary working parade, which was reviewed by the Base Commander. In remarks, the Base Commander emphasized the importance and historical significance of the Base Vavuniya during the humanitarian operation as well as the conversion over the years. Also thanked all of the officers, airmen, airwomen and civilians who have contributed over the past four decades to the transformation and development of the Base.

In line with the anniversary celebration, Installation of CCTV Camera Network at District General Hospital Vavuniya, Renovation of Dalada Viharaya Madukanda and St. Joseph's Church Medawchchiya, Shramadana Campaigns in Vavuniya Sri Bodhirajaramaya Temple, Munnimurippu Hindu Kovil, Mohideen Jummah Mosque Vavuniya as well as a tree planting campaign within the Base premises were conducted.

The religious blessings on the Base were invoked by religious clergies at Etambagaskada Sudharmaramaya Temple, St. Anthony's Church, Kudiyiruppu Pullayar Kovil and Grand Jummah Mosque Vavuniya.

The anniversary celebrations concluded with a friendly cricket tournament with the participation of all service personnel and civil staff at the Base sports ground and followed by an all ranks Dinner.