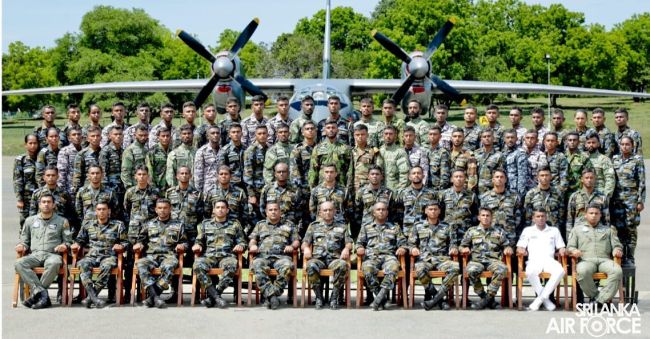 THE BADGES AWARDING CEREMONY of THE COURSES OF NO. 50 BASIC AIRBORNE, NO. 09 BASIC MILITARY RIGGER AND NO.08 SPECIAL AIRBORNE FORCE
10:26am on Friday 4th November 2022
The Badges Awarding Ceremony of the courses of No.50 Basic Airborne, No.09 Basic Military Rigger and No. 08 Special Airborne Force (SABF) was held at SLAF Station Ampara yesterday (03 November 2022). A total of 96 trainees were pinned on their badges at the ceremony. This included 06 SLAF officers, 36 airmen, 03 airwomen, 08 SL Army other rankers, 03 SL Navy sailors, 01 Special Task Force officer, 03 Special Task Force servicemen under parachute wings and 05 SLAF officers and 36 airmen of Special Airborne Force.

The Director Air Operations, Air Vice Marshal Bandu Edirisinghe graced the occasion as the Chief Guest. The parade commenced with static line jumps of the trainees from an AN -32 B aircraft at 1000 feet. The Sky Divers of the SLAF performed a magnificent show, exiting at 6000 feet from the same aircraft. Special rider display, Unarmed Combat display by Special Airborne Force course participants and a Band Display by the Air Force Ceremonial Band added glamour to the parade.

Flying Officer CR Kodithuwakku, Corporal Gunawardhna MDSN and Leading Aircraftman Disanayaka AADB were adjudged as the best all-round trainees of No. 08 Special Airborne Force Course, No. 09 Basic Military Rigger Course and No. 50 Basic Airborne Course respectively.
The ceremony was attended by Commanding Officer SLAF Station Ampara, Group Captain GSN Priyadarshana, Commanding Officer Parachute Training School, Wing Commander Vijitha Gomis, Commanding Officer Special Airborne Force, Wing Commander Sumeda Ritigala, other special invitees and beloved family members of the trainees.