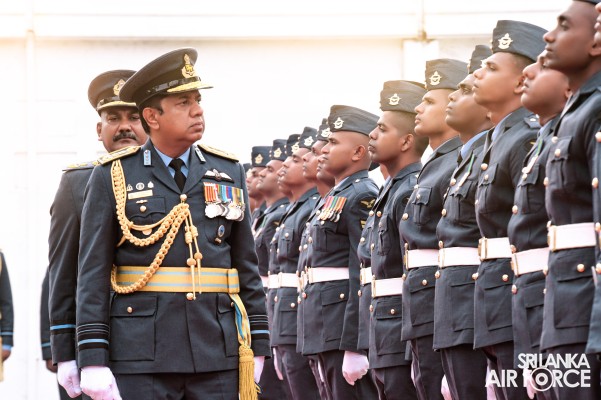 COMMANDERS INSPECTION OF AFHQ AND SLAF STATION COLOMBO
2:18pm on Thursday 17th November 2022
The Commander of the Air Force, Air Marshal Sudarshana Pathirana conducted the Commander's Inspection at Air Force Headquarters and SLAF Station Colombo today (16 November 2022).

The Commander was welcomed by the Commanding Officer SLAF Station Colombo, Air Commodore Suresh Fernando after which a Ceremonial Guard of Honour was accorded to the Commander. The following two (02) Senior Non Commissioned Officers received commendations from the Commander in recognition of their meritorious service to the SLAF.

Warrant Officer AASP Attanayake (Dental Technician I)
Flight Sergeant Henegama DRWNMB (Provost I)

The Commander inspected all Directorates and other areas of AFHQ. On the conclusion of the inspection at AFHQ, the Commander departed to SLAF Station Colombo to commence the rest of the inspection. The Commander was welcomed by the Commanding Officer where a Ceremonial Street Line was accorded on his arrival.

The Commander visited all areas of the Station. At the conclusion of the inspection, the Commander took a seat at the Airmen's Mess with a cross-section of Officers, Airmen, Airwomen and Civilian Staff for the customary All Ranks Lunch. The Commander then departed to the Officers Married Quarters Complex at Kollupitiya. After which, he departed to SLAF Guwanpura where he inspected the SLAF Hospital, MT Complex and the Married Quarter Complex.

Then, Commander departed from Guwanpura to proceed to the Air Force Health Management Centre and finally concluded this year's inspection at the AFHQ Officers' Mess in Thummulla.