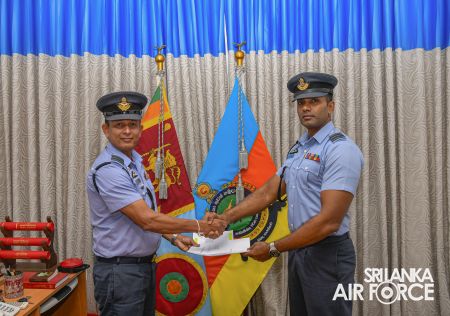 CHANGE OF COMMAND AT NO.43 COLOUR WING SLAF BASE KATUNAYAKE
10:58pm on Saturday 26th November 2022
The Change of Command of No.43 Colour Wing SLAF Base Katunayake was held yesterday (25 November 2022). The traditional handing over/taking over parade was conducted at the Base Parade Square where the outgoing Commanding Officer, Wing Commander J Amarasinghe USP, MHRM, MHR, PGD in (Def. Mgt), Dip in psy, JP (All Island) handed over the command to Wing Commander KMPS Kulathunga.
The outgoing Commanding Officer took over the command of No.43 Colour Wing on 26 July 2021 and proceed to take over the command at SLAF Detachment Mattala.
The new Commanding Officer Wing Commander, KMPS Kulatahunga previously held the appointment as Officer Commanding Operations at No.27 Regt Wing SLAF Base Ratmalana.