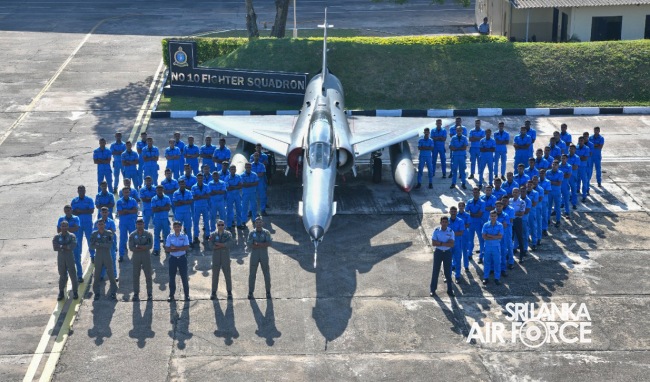 NO 10 FIGHTER SQUADRON "LION CUBS" CELEBRATES 27TH ANNIVERSARY
2:16pm on Thursday 5th January 2023
The No. 10 Fighter Squadron, which is renowned as the "Lion Cubs," celebrated its 27th  anniversary today (05 January 2022). The day's proceedings commenced with the customary working parade, which was reviewed by the Commanding Officer of the Squadron, Wing Commander WMTGPS Wijekoon at hangar premises.

Addressing  squadron personnel, the Commanding Officer recalled the service rendered to the nation by this illustrious squadron and notable past squadron members who had shouldered the 27-year-long journey and emphasized the importance of sustaining high standards in all aspects of being a Fighter Squadron. The Sri Bodhirathanaramaya Temple in Katunayake was cleaned, and a Bana programme was conducted on 03 January 2023 to commemorate air warriors who made the ultimate sacrifice for the freedom of the nation.

At its commencement, the No. 10 Fighter Squadron was strengthened with four (4) pilots, four (4) engineering officers and seventy (70) technicians who were soundly trained by Israel Aerospace Industries, technical experts and instructor pilots from Israel. The present Commander of the Air Force, Air Marshal Sudarshana Pathirana was one of the elite pilots of the No. 10 Fighter Squadron, along with Wing Commander Janaka Wijetilleke (Retd) and Group Captain Sajeewa Hendawitharane (Retd) . The Commander was appointed as the first Officer Commanding Operations and subsequently ascended to command of the squadron as its second Commanding Officer from 07 June 2000.

During the humanitarian operation, No. 10 Kfir Squadron was one of the most courageous squadrons in the Air Force and its remarkable contribution has paved the way for the task of liberating the island from the grip of terrorism. With the endowed effort and commitment of air and ground crew, the No. 10 Fighter Squadron will continue to thrive in the future with capabilities second to none in the regional Air Forces, the newest updates, and highly trained personnel, keeping the Air Force ensign flying high.