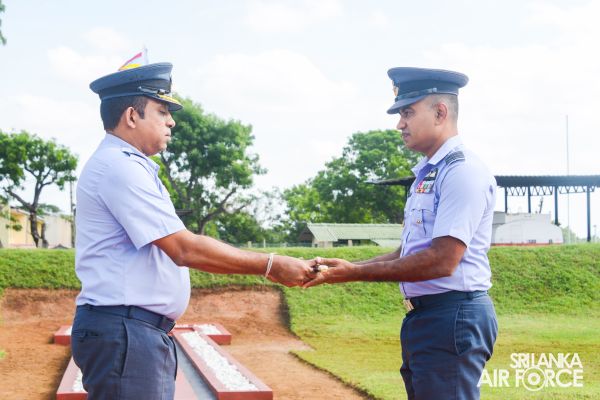 CHANGE OF COMMAND AT NO 06 HELICOPTER SQUADRON SLAF BASE ANURADHAPURA
3:37pm on Tuesday 10th January 2023
The Change of Command of the No 06 Helicopter Squadron at SLAF Base Anuradhapura held today (10 January 2023) and the traditional Handing over / Taking over parade took place at the squadron premises. The outgoing Commanding Officer, Group Captain JS Samarasekara RSP, MSc, (Def & Strat Stu), psc handed over the Command of No 6 Helicopter Squadron at Sri Lanka Air Force Base Anuradhapura to Wg Cdr MART Munasinghe RSP and Bar, USP, MMS (Mil Com – PRC), BSc (Def Stu), Pg Dip HRM, Pg Dip (Def Mgt), psc.

The outgoing Commanding Officer, Group Captain JS Samarasekera took over the command of No 06 Helicopter Squadron on 11 January 2022 and he will proceed to administer the duties as the Assistant Military Liaison Officer (Air Force) at the Ministry of Defence.

The new Commanding Officer, Wing Commander MART Munasinghe previously executed his duties as the Officer Commanding Operations at No 04 Helicopter Squadron before being appointed as the Commanding Officer.