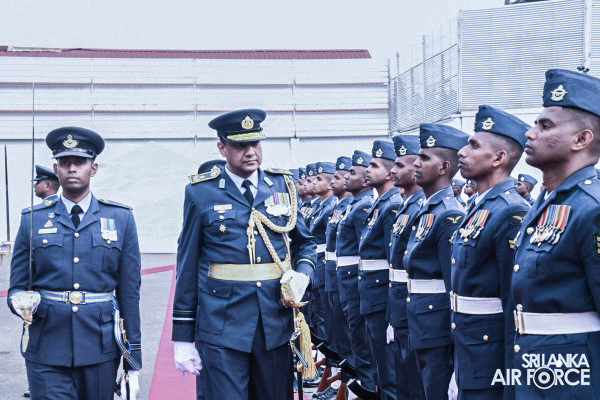 AIR VICE MARSHAL AROSHA VITHANA BIDS ADIEU TO THE SRI LANKA AIR FORCE
4:25pm on Saturday 21st January 2023
Air Vice Marshal Arosha Surendra Vithana USP, MSc (Def Stu) in Mgt, BSc (IT), psc bid adieu to the Sri Lanka Air Force today (21 January 2023) after 34 years of dedicated service to the nation. At the time of his retirement, he held the appointment of Director General Electronics and Information Technology Engineering of the Sri Lanka Air Force.

Air Vice Marshal Vithana made an official farewell call on the Commander of the Air Force, Air Marshal Sudarshana Pathirana at his office on 18 January 2023. The Commander commended him for his dedicated long years of service rendered to the Nation and to the Sri Lanka Air Force in particular. The Commander also emphasized that he was one of the key stakeholders during the time of need of our motherland and that his illustrious career will remain etched in the annals of the SLAF. The Commander and the Air Vice Marshal Vithana exchanged mementos to mark the occasion. After which, he was accorded a Ceremonial Guard of Honour by the SLAF Colour Wing on 18 January 2023 before he departed Air Force Headquarters for the last time.

He joined the Sri Lanka Air Force on 17th May 1988 with the 19th Intake of Officer Cadets. He joined as an Officer Cadet to the Technical Signals Branch which is presently known as the Electronics Engineering Branch and was commissioned as a Pilot Officer on 17th Jul 1990.

The Air Vice Marshal Vithana possesses wide range of experiences in the electronics engineering and IT engineering branches which includes specialization in the field of Cyber Security. During his distinguished service career spanning over 34 years, he has served in many different establishments of the Sri Lanka Air Force and was instrumental in establishing No 01 and No 02 IT Wings, Air Force Cyber Operations Centre, Directorate of IT and IT Engineering branch.

Air Vice Marshal Vithana qualifies with sound academic background holding a BSc (Hons) IT from Manchester Metropolitan University UK, MSc Degree in Defence Management from General Sir John Kotelawala Defence University, MSc Degree in Information Security from Asia E-University Malaysia and psc in China.

He held an appointment in the Sri Lanka Air Force Sports Council and officiated as the Chairman of SLAF Hand Ball. For his distinguished and exemplary service, he has been awarded with Sri Lanka Armed Services Long Service Medal and the "Uttama Seva Padakkama".